Three new editions of the Approved Documents (AD) for building in England have been released. ADs K and P will take effect on 6 April 2013, with AD 7 coming into force on 1 July 2013.
AD K (Protection from falling collision and impact) has been updated to amalgamate AD N (Glazing), as well as some overlapping guidance included in AD M (Access to and use of buildings). As well as these changes, references have been updated in the light of the harmonised standard related to 'safe breaking' and testing methods, and the harmonised standard and National Annex related to resistance of loads for barriers. Tables and diagrams have been amended and simplified, key terms have been updated, and there is now an index. There are no new technical requirements.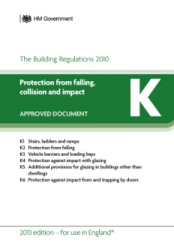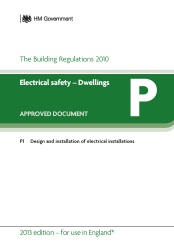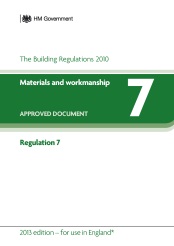 New Approved Documents for 2013
AD P (Electrical safety – dwellings) reduces the range of electrical installation work that is notifiable. In addition, installers who are not registered competent persons can now use a competent person to certify work as an alternative to using building control. The technical guidance throughout now refers to
BS 7671:2008, incorporating Amendment No 1:2011.
AD 7 (Materials and workmanship) is updated in the light of the Construction Products Regulations 2011, and particularly confirms the requirement that building products covered by a harmonised European standard should normally have CE marking. Guidance on resistance to moisture and substances in the subsoil has been deleted, as it is incorporated in AD C, as have examples of materials susceptible to changes in their properties.
The new ADs have a fresh new look and writing style, including single column layout.
A substantial Corrigenda publications sets out amendments, revisions and corrections to ADs A, B vol 1,
B vol 2, C, D, E, F, G, H, J, L and M, which take effect at various dates across 2013.
Amendments to ADs A, C, D, E, F, H and J are consequential to the introduction of a new approved document to support regulation 7. The changes to AD L are made to take account of a recast of the European Energy Performance of Buildings Directive (Directive 2010/31/EU), and comes into force on 9 January 2013 for all public buildings and 9th July 2013 for all other building.
Additionally, two Approved Documents (M and B) have been updated and are now available:
Approved Document M: Access to and use of buildings (2004 edition incorporating 2010 and 2013 amendments)
Approved Document B Volume 1: Fire Safety Dwelling houses (2006 edition incorporating 2010 and 2013 amendments)
Approved Document B Volume 2: Fire Safety Buildings other than Dwelling houses (2006 edition incorporating 2010 and 2013 amendments)
All of the new publications can be ordered from RIBA Bookshops online

as well as from RIBA Bookshops and retailers for delivery in January 2013. They are also now available to NBS Building Regulations

subscribers