RIBA CPD Providers Network Logos
Use of RIBA CPD Providers Network logos

The Logos to which we refer in this document pertain to three specific the main RIBA CPD Providers Network Logo, the RIBA CPD Assessed Material Logo, the RIBA CPD Core Curriculum Logo
The Royal Institute of British Architects has developed a range of Logos to support the promotion of the RIBA CPD Providers Network and the recognition of subscribing companies:
Three Logos have been created:
RIBA CPD Providers Network
RIBA CPD Assessed Material
RIBA CPD Core Curriculum
Each of the above shares a common overall design, which features the well-known RIBA crest of the two lions. Do not devise your own version of any of the Logos.
Design guidelines: common to all Logos
Positioning
You will have your own unique design for advertisements, stationery, and web pages. No single instruction for position would be appropriate, but please adhere to the following guidelines about colour, size and the 'exclusion' zone. Please read in conjunction with 'Where can Logos be used?'
Colour
Please always try and use the red 'house colour' for RIBA CPD Logos (except RIBA CPD Core Curriculum). This red is reproduced by specifying a Pantone ink, with the reference 032. Or, if the red is to be created out of four-colour printing process, your designer will need to specify Cyan 0%, Magenta 90%, Yellow 90%, Black 0%. When adding the logo to power-point or web pages, please specify Red 255, Green 0, Blue 0. The other colour option is to print in black. Do not use any other colours.
Core Curriculum: A dark blue 'house colour' has been chosen to give stand-out from the other RIBA CPD Logos. The Pantone ink reference is 281; the equivalent colour can be matched out of four-colour process with Cyan 100%, Magenta 70%, Yellow 0%, Black 40%; for computer graphics the dark blue can be matched with Red 10, Green 45, Blue 110. The other option is to print the Logo in black. Do not use any other colours.
Size
The absolute minimum height for reproduction is 15mm, or 70 pixels.
Exclusion zone
There is an 'exclusion zone' of imaginary space around the Logo to avoid type or other emblems crowding the Logo.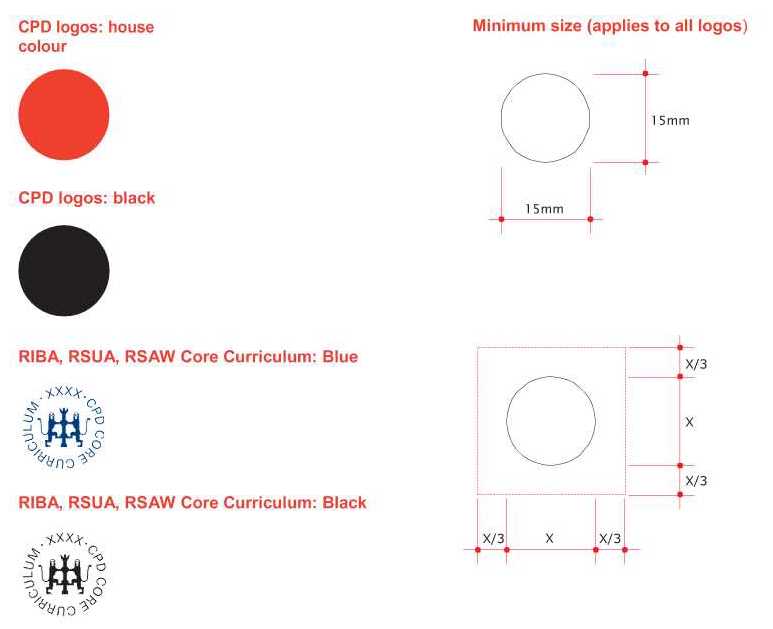 Who can use the logos?
Only registered RIBA CPD Providers Network subscribers ("Permitted Users") with approved material and current contracts can use the Logos. Permitted Users can make them available to advertising or PR agencies who are creating collateral for specific jobs for you. The Logos cannot otherwise be passed on or sold for use by third parties. The Logos cannot be displayed on third party websites or third party digital or physical material other than the Chartered Institute of Architectural Technologists (CIAT) The British Institute of Interior Designers (BIID) the Chartered Institute of Building Services Engineers (CIBSE.)
Cancellation of your subscription means that you are no longer permitted to use the Logos, and it is your sole responsibility to remove them from any physical or electronic collateral on which they appear including, without limitation, subsequent print runs of any physical collateral.
If we discover subsequent to cancellation that you are using the RIBA or RIBA CPD Providers Network name or have exploited the Logos in relation to any of the services that we provide we may be forced to take legal action to enforce our intellectual property rights.
Where can Logos be used?
RIBA CPD Providers Network
The main RIBA CPD Providers Network Logo can be used widely on your own content and digital and physical collateral as a membership badge. This includes for example:
Presentations and handouts
Videos
Advertising, online or offline
Display signs and pop-up blinds for exhibitions
Printed matter (books, technical guides, data sheets, design guides, etc)
Website (your own website only)
Newsletters
Compliment slips
Letterhead
Business cards.
The Logo cannot be used on third party websites or other digital content or physical collateral other than those of CIAT, CIBSE or BIID.

RIBA CPD Assessed Material
This Logo can be placed on assessed and approved CPD material, certificates pertaining to the approved material, and advertising relating directly to any approved material. This Logo cannot be used on third party websites or other digital content or physical collateral other than those of CIAT, CIBSE or BIID.

RIBA CPD Core Curriculum
This Logo can be placed on assessed and approved CPD material, certificates pertaining to the approved material, and advertising relating directly to any approved material. This Logo cannot be used on third party websites or physical collateral other than CIAT, CIBSE or BIID.


April 2021