Construction Information Service
The Construction Information Service (CIS) is a comprehensive online collection of over 28,000 construction related standards, regulations, technical advice and articles from 500+ publishers. Content is updated weekly, neatly organised into topic based supplements and delivered through a function rich and easily accessible online portal. Read more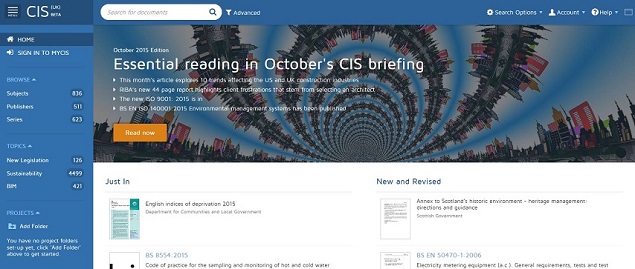 Key benefits
Construction Information Service contains a wealth of construction standards and publications content
Our redeveloped site makes it quicker and easier to find what you're looking for
NBS Building Regulations and Specify-it are provided as part of your CIS UK subscription
A quick and easy way to access the latest construction standards and publications
A simple and efficient way to access construction standards and publications
Content is organised into seven fully searchable supplements based around work topics or research interests. Every subscription to CIS comes with a Core Supplement as standard allowing you to choose from the remaining Supplements to suit your business or research needs.
Establishing knowledge and expertise within your organization
The information within CIS is critical for informing your UK or Republic of Ireland construction projects or research interests. It will help you to provide an informed service for your clients, understand the requirements for compliance and mitigate risk - whilst becoming a core tool for knowledge building within your organisation.
Function rich and user friendly
CIS has recently been fully redeveloped and provides a quick and accessible way to access the content on PC, tablet or smart phone.
Features include:
A new graphical layout providing improved transparency of content within the service
Project folders to help you organise and keep track of your documents
Automated document change alerts to keep you up to date
Select your interests to receive content relevant to you
Increased amount of BIM content
A specialist content team
CIS is supported by a team of construction industry specialists at NBS who constantly monitor the content of the service and adjust and align it to industry trends and user demand.
Explore Construction Information Service in more detail