Summary
There are numerous ways to add information into your NBS Specification. In addition to adding from an existing project or creating your own sections, you can add content from the NBS Technical Libraries.
More information
In order to do this, follow these steps:
Open your existing specification or create a new one.
Navigate to the bottom left of the screen where you will see a References section.
Underneath that there is a tab called "NBS". Ensure this is the selected option.
You will see numerous options for the technical content you have available. This can vary depending on your subscription.
Expand the sections you want using the small '+' next to each section.
Once you locate the section you desire, right click it and select "Add To Project". An example is below.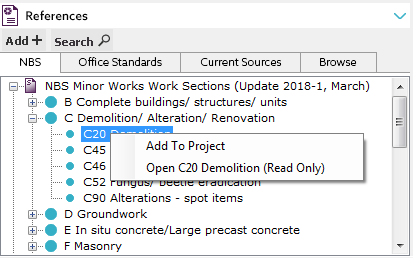 If you wish to preview the section in question, you can either select the option to "Open as read only" or double click the section. This will open the original version of the section for review. Please note this cannot be edited and will display as read-only.