If a file becomes corrupted for any reason, NBS Building, NBS Engineering Services and NBS Landscape can be used to try to repair it. Some data may be beyond repair, however. You should decide whether a corrupted file which has been recovered is more usable than a backup copy that your system can make. In addition NBS Building files will increase in size due to editing. A compaction tool is provided to reduce the file size of the files without changing any of the project data. A backup copy of the file is maintained in case of any problems.
Resolution
To compact and repair your file:
Close any specifications or preliminaries which are open.
From the menu bar, select Tools > Compact and Repair File. The Compact and Repair dialog will appear: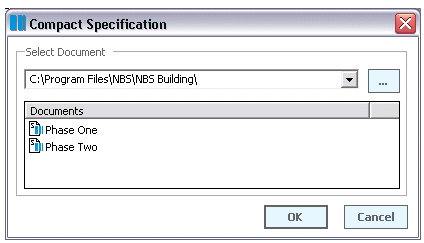 Select the file you wish to compact and repair from the list.
If your file is not listed on the current browse path you can browse to another location by pressing the browse button.
A dialogue box will show whether the compact and repair has been successful.
Related Articles