Summary
When working on a specification/preliminary file within NBS Building and NBS Landscape, the file increases in size as you are editing it, and sometimes this can make the file become unstable.
A compact and repair tool is provided within the software to reduce the file size of the files without changing any of the project data, as well as repair a potential corrupt file - it is the first step we advise our customers to try if there is an issue with the file. A backup copy of the original file is maintained in case of any problems.
Some data may be beyond repair, however. You should decide whether a corrupted file which has been recovered is more usable than a backup copy that your system can make.
Resolution
To compact and repair your file:
1. Close any specifications or preliminaries which are open in the software.
2. From the menu bar, select Tools > Compact Specification...: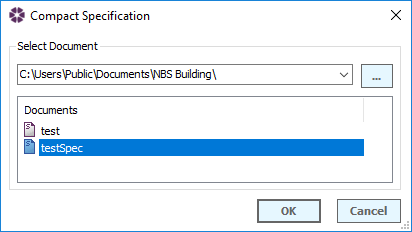 3. Select the file you wish to compact and repair from the list. If your file is not listed, you can browse to that location by clicking on the browse button.
4. Click OK and a dialogue box will show whether the compact and repair has been successful or not:
If the file fails to compact, please contact the NBS Software support team - you can find the contact details Here.
Related Articles