Issue:
When you try to open NBS Create you get a dialogue stating Windows is configuring NBS Create:

Then you get an error:
The installed product does not match the installation source(s). Until a matching source is provided or the installed product and source are synchronized, this action can not be performed.
Contact your administrator or product vendor for assistance. If there is a matching installation source, type it below or click Browse to locate it.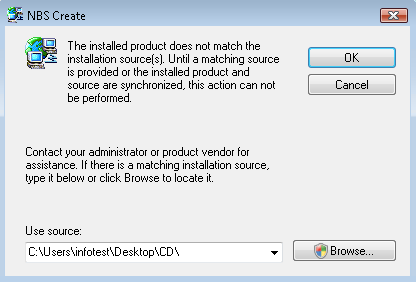 Followed by:
Error 1731. The source installation package for this product NBS Create is out of sync with the client package. Try the installation again using a valid copy of the installation package 'NBS Create.msi'.

Affects:
Upgrading existing installations of NBS Create on Microsoft Windows Vista. New installations of NBS Create are unaffected. Other versions of Microsoft Windows operating systems are unaffected.
Solution:
This will be fixed by uninstalling and reinstalling NBS Create.