Symptoms
During the installation process of the NBS software the following message is displayed: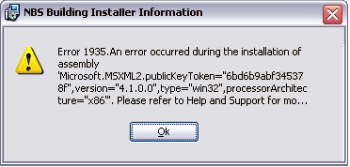 More information
This problem is caused by an error in the Installshield wizard when trying to install the Microsoft .NET Framework.
Please see
Microsoft KB Item 308096

for further details.
Resolution
To resolve the error message, firstly try installing Microsoft .Net Framework manually from the NBS software CD.
To reinstall run through the following steps:
Browse the NBS CD


Go into the folder named Managed Installation


Go into the folder named NET


Double click on the file Dotnetfx.exe, follow the install instructions


Once this has been installed restart the NBS software installation.

If you still receive the Error 1935 please try the following:
Restart your computer


Stop the Windows Installer, to do this open go to Start > Control Panel, double-click on Administrative Tools, double-click Services, right-click the Windows Installer Service and select Stop


Now try installing the software.