Summary
When exporting a specification to PDF format the following error occurs: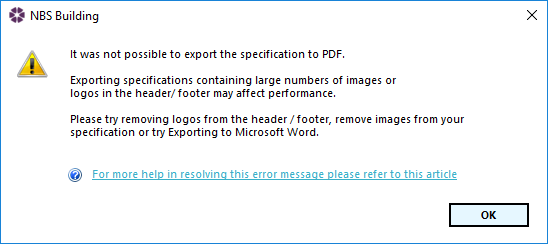 This occurs when the specification contains pictures or a company logo in the header or footer, as well as within any sections.
More Information
The message stems from a memory handling issue in the third party PDF generating component used in the software. When you export a specification containing a logo in the header/footer or an image in any sections to PDF, the program asks for more resources than the PC can serve to process the file.
Workaround
The Development team have since worked on the issue and have updated the software to better handle how memory is used to process higher number of images in the specification.
We recommend that the software is updated to the latest version, which you can download from the Downloads page.
However, it is still not recommend to insert too many large images as you may come across the following error message: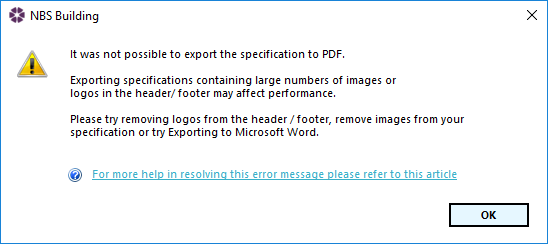 As suggested in the error message, please consider reducing the number of images inserted into the specification to export to PDF. Alternatively consider exporting the specification to Microsoft Word.
Additional Workaround
There have been instances where the specification you are working on won't contain any images or logos and you are currently running the latest version of the software. Should this be the case for you please follow the steps below to resolve your issue.
Close down your current Specification then create a new blank spec.
Navigate to File > Export > Layout Tab.
Ensure the default settings are selected as shown in the image below.
Then click Save as and save the file to a location that you can easily navigate to (we recommend saving to your desktop).
Now open the spec you wish to export and go to File > Export > Layout Tab.
Click Load saved stylesheet and select the stylesheet .xml file you just created.
Once done click Export from the layout tab.
A Select Export Format window will then open, select the PDF format option and click save.
Once saved it will then say that the export was successful and will ask you if you want to view the PDF.