Symptoms
When exporting a specification to PDF format the following error occurs: "It was not possible to export your specification. A generic error occurred in GDI+."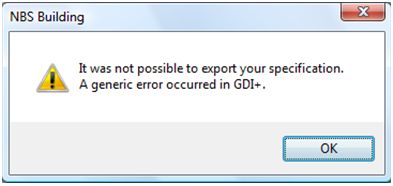 This occurs when the specification contains pictures or a company logo in the header or footer.
Cause
The message stems from a memory handling issue in the third party PDF generating component used in the software. When you export a specification containing a logo in the header/footer to PDF, the program asks for more resources than the PC can serve to process the file.
Our development team are aware of the issue. However the issue is with the component that is provided by a third party and we do not have direct control over when this will be resolved.
Workaround
There are some alternatives that will allow you to produce your specification without encountering the issue.
They are to:
Insert the logo on the specification title page, instead of on each page. Create a custom title page containing your logo at the beginning of the specification, instead of including the logo in the header/footer of each page.

To do this, firstly create a title page in a word processing application and save the file as a rich text document (.rtf). In File > Print or Export wizard > Layout tab, select the 'show custom' option and browse to your title page.


Export the document without the logo in the header/footer.