Symptoms
When working in NBS Create, you received the following message: "You can no longer use the Architecture, Landscape, Services and Structure libraries".

You must close the message and log back in to NBS Create to continue editing your specification.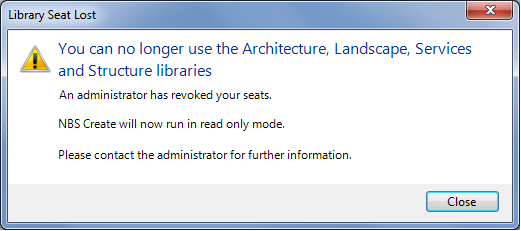 Cause
The NBS Create licensing server clears unused library seats when there has not been any contact with the NBS Create program for a prolonged period. It does this whenever a new user tries to log on to the licence.
More information
The NBS Create program connects to the licensing server every 5 minutes. If the licensing server does not receive a connection from an active user for a prolonged period then their seat will be released when the next user tries to log on to that licence.
Resolution
If you get this error, save your work, close the program and reopen again.
If your internet connection is intermittent, we recommend changing to a more stable connection. For example, you are likely to encounter this message if you are on a train.
If you are working in the office using Wi-Fi, we recommend connecting to the internet with a wired connection.
If you are using a wired internet connection and you encounter this message, you may have issues with your internet connection. We recommend investigating this with your network administrator.
If you would like more information, please contact
NBS Software Support.

Related links
Why NBS Create needs an internet connection and what you can do without one