Summary
NBS Building version 5.6.0 (May 2016) introduced the functionality to export your specification or preliminary to Microsoft Word.
Please see the Export to Microsoft Word article for a step-by-step guidance on using this feature.
Why should I use the export to Microsoft Word option instead of the PDF option in NBS Building?
You may find this feature helpful if you want to format your project information beyond what can be done with the existing formatting settings in NBS Building, or you already have a company/corporate stylesheet setup in Microsoft Word you would like to apply to your documentation.
When should I export to Microsoft Word and where should I make further changes to my clauses?
You should make all of the amendments to your clauses in NBS Building before exporting your specification/preliminary to Microsoft Word.
We recommend making any further amendments to clauses in NBS Building and re-exporting the specification/preliminary. Only make formatting or style changes to the document in Microsoft Word. This will avoid the potential of un-tracked editing or information being duplicated.
What is not exported from NBS Building to Microsoft Word?
All technical content from your specification/preliminary will be exported. However some elements of the NBS Building Export/Print options are not exported. This is intentional so you can take advantage of the more powerful formatting options in Microsoft Word.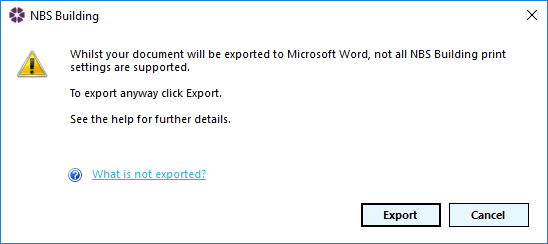 These are:
Table of Contents
Document Headers and Footers
Logos
Page numbering
Native NBS Building print formatting (e.g. margin settings, cover page and separator page layouts, fonts etc.)
Financial Summary & Cash columns
Reports
Please see the table in the Export to Microsoft Word in NBS Building or the NBS Building Help Topics for details of how to add these back into your document. Alternatively, within the error message above click on the hyperlink "What is not exported?" for the table to appear within the Help window.
I get the message "There was a problem exporting the specification" when I try to export.
When you save your exported specification/preliminary you get the following error message, "There was a problem exporting the specification. Please check the file at the chosen destination is not currently in use by another application".

This is because you have a version of the exported document already open in Microsoft Word. Please close this and then retry the export from NBS Building.
How can I tell what styles the different elements of my specification have been mapped to in Microsoft Word?
Each element of your specification/preliminary has been mapped to a particular style in Microsoft Word. This is helpful because it allows you to change the formatting of headings and clauses throughout the document automatically.
To see this in action, please see the videos and information in the Export to Microsoft Word in NBS Building article.
To see visually what style an element on the page has been mapped to, we recommend turning on the Styles Panel within Microsoft Word.
To do this, click on the Home tab > in The Styles area of the ribbon click on the Styles Window pop-out icon or using your keyboard, hold on Alt+Ctrl+Shift+S.
As you click on different areas of your document in Microsoft Word, its corresponding style will be highlighted on the styles panel: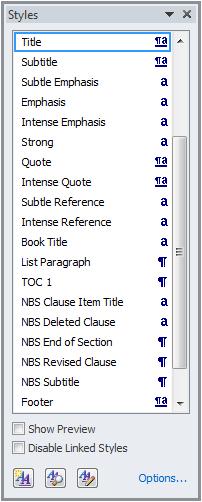 You can also preview how the style will look by selecting the "Show Preview" tick box.
Can I insert the Section Code into the header or footer in Microsoft Word?
Although you can use the StyleRef to insert the Heading 1 into your header and footer (unless you insert a section break after each separator page), this will not display the correct system code and reference. For this reason we do not recommend inserting page specific headers and footers.
We do however recommend inserting information like specification title or logos in the header and footer. This is described in the video in the Help Centre.

Why does changing the style of a table not change all of the tables throughout my specification in Microsoft Word?
Table styles in Microsoft Word are on a per table basis. If you would like all tables throughout your document to reflect a specific style you must apply this to each table individually.