Beta tester profile: Russ Green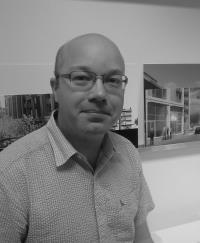 I studied architecture at Hull and have been in practice now since 2001. Although I wouldn't consider myself specialist in any particular sectors, most of my work has been in residential, education and retail.

Within the practice I'm the technical lead, hence my interest in beta testing NBS Create. I'm also the CAD/BIM manager, developing bespoke applications for the practice to streamline our workflows which seems like a good fit in testing the NBS Plug-in for Autodesk® Revit®. Outside of work I have my pilots license and enjoy exploring the country from the air – a great distraction from architecture.

Origin3 Studio

is quite a small team, with only five full-time architects, and many of us met while working in larger practices. We are still a fairly young practice, having formed approximately four years ago. At that time we made a conscious decision that we would, from the very outset, invest in Revit® as our primary design platform.
Starting as a personal experiment, but quickly becoming the norm, 100% of design work is done in Revit®, with the other tools in the building design suite being used when required. Alongside Revit® we needed a specification tool and opted for the newly released NBS Create. The main reasons for selecting Create was that the entire structure of the specification made more sense in a BIM workflow, so we could specify a wall system and then link that complete system to a wall in our model. The old CAWS structure no longer made sense. Of course, the choice of NBS Create was also assisted by the NBS Autodesk® Revit® plug-in, which made the linking of spec of model very easy.
We really like the way the NBS Create sections are additive – systems can be built up, starting initially with outline specifications only linked to quite conceptual BIM objects. The model and spec develop together as the design develops. This is particularly useful with a dual monitor setup.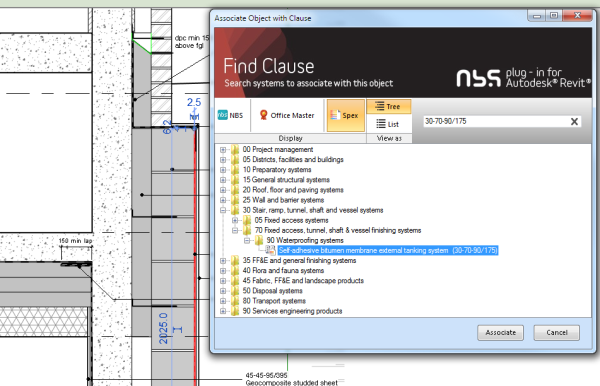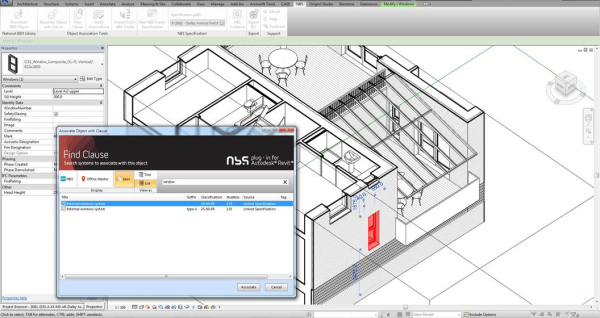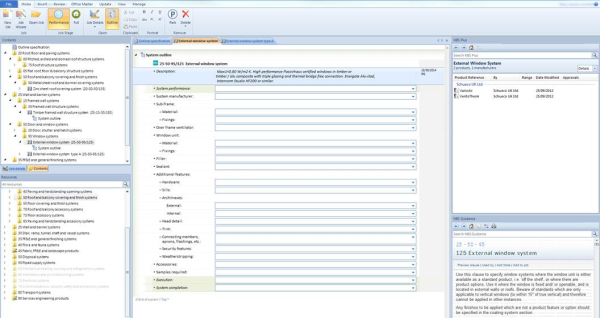 The Revit®/NBS Create integration is incredibly powerful, and one thing we can have confidence in is that our information in drawings, schedules and specifications are completely in sync and internally co-ordinated. Using the pre-attributed content in the NBS National BIM Library adds a further layer of improvement to our workflow, in terms of speeding up the generation of the first specification and knowing that the component parts of the model have been created to a high standard. This frees up resource and allows us to focus much more on getting the design right, and at the same time take on larger projects than we could have with less integrated working methods.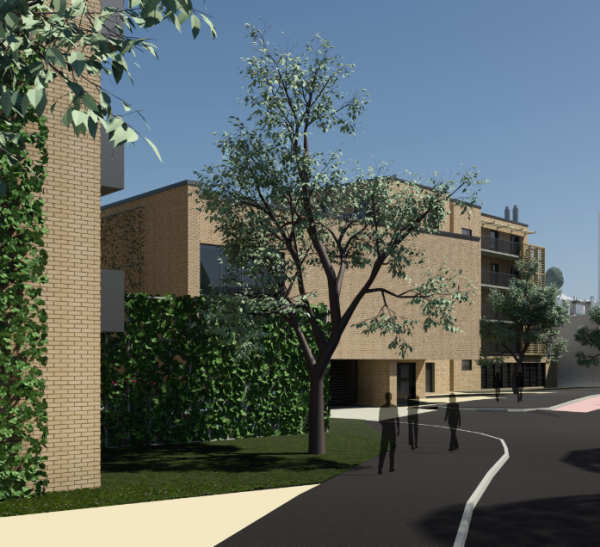 Early stage CGI using walls made with Ibstock bricks and curtain wall components downloaded from the NBS National BIM Library.

Find out more about the NBS Beta Test Programme