NBS online viewer: Welcome to the open beta
In this article
Overview - The project so far
Get involved! - The open beta starts now
Background - Previous research and testing
Early public testing - The closed beta
Overview
As we embark on this new development, we'd like to share some of the story so far and hope you will join us on this journey. This Beta will inform a 'proof of concept' phase into providing further collaboration functionality for those sharing, receiving or working with NBS Create specifications, Revit® or IFC files.

We would like your feedback on our delivery of this potential addition to the NBS BIM Toolkit.

Since becoming the first UK Autodesk Solutions Associate last year, early prototyping has been underway to develop an online viewer capable of displaying rich, coordinated information from both the model and the linked NBS Create specification, all in a standard web browser. This is designed to assist collaboration and to remove the constraints of software, licenses or geographic location.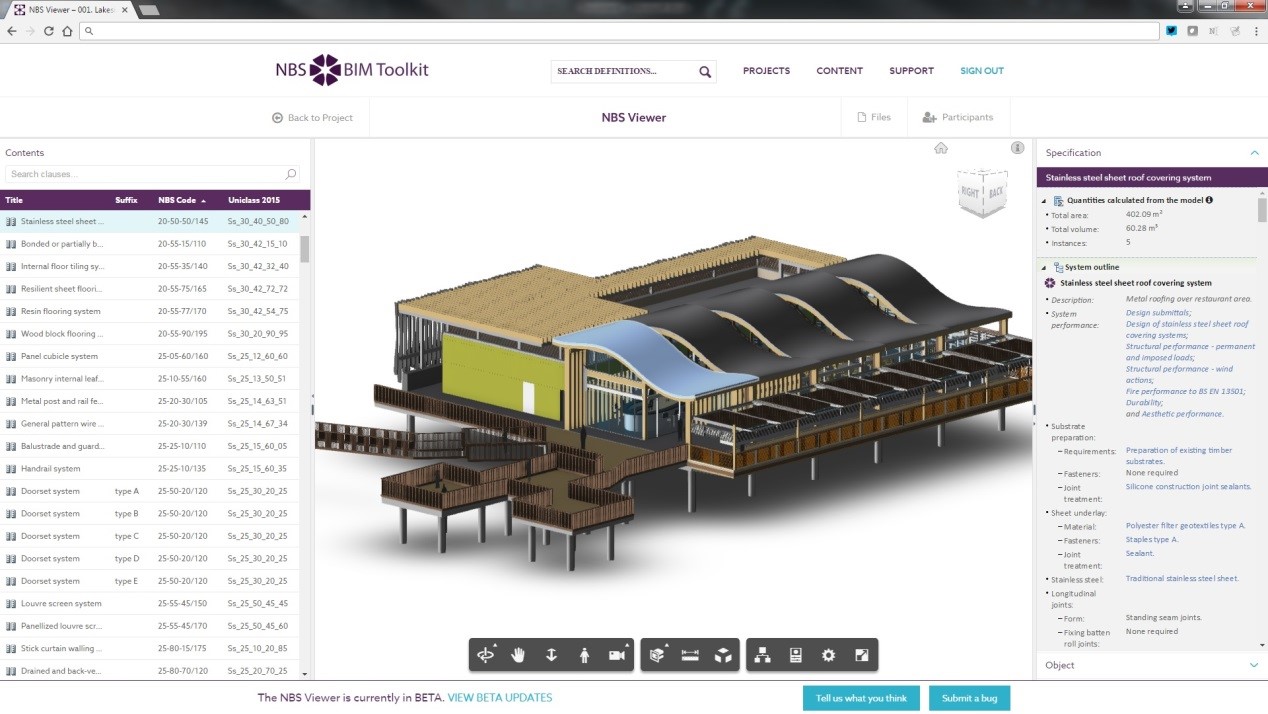 Lakeside model with associated NBS Create specification in the NBS Online Viewer prototype
(View larger)
Get involved! - (Open beta starts now)
We are strengthening our User Driven Development and that means we need your constructive feedback, likes, dislikes, suggestions, ideas and issues to help us develop this prototype into an industry solution.

Throughout 2017 we will be expanding the number of users testing the NBS Online Viewer by launching this open Beta to the industry. At this point you can access, test, discuss and share access with your colleagues, project team and interested contacts.

All the information and resources you will require will be maintained and updated on this page as a self-serve evaluation environment.


Access and user guide
We've prepared an access and user guide for NBS Online Viewer to get you up and running in no time at all.
Submitting feedback and voting on priority developments
While testing, please document any thoughts, feedback, suggestions and ideas to share with me. The Beta bar at the bottom of the 'Model' page will allow you to log any bugs/faults and send an email for ad hoc feedback or screen shots. The 'View Beta Updates' link will bring you to this article so check back for updates on activity, new features and functionality.

The Beta Bar is your direct link for sharing your feedback, experience and reporting issues during the open Beta.

This connects directly to our issue tracking software before moving it on to our other internal systems for further review and in some cases development.

We will upload development ideas from Beta testers for others to vote the suggestion up in importance and development priority. Access the NBS Beta Ideas Centre frequently to see the progress of existing items, submit new ones and join the discussion.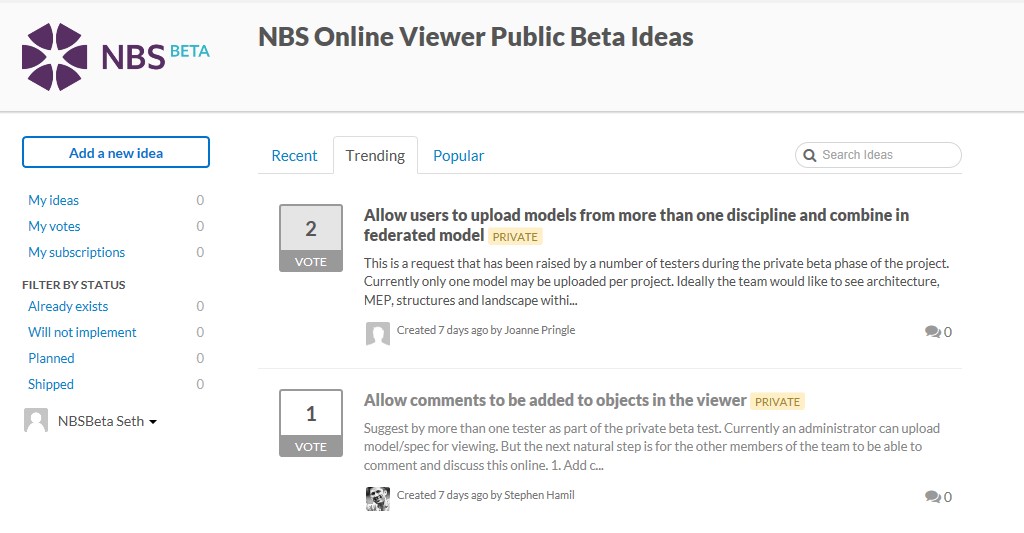 https://nbsonlineviewer.ideas.aha.io
(View larger)

Regular feedback reviews and development actions
We will hold regular internal reviews of your feedback and conduct monthly reviews with the Autodesk Forge team to discuss your findings and suggestions for further development and enhancement of the viewer.

Submitting frequent feedback will allow us to discuss these items early and where possible, action fixes, updates and changes before we reach the next milestone.
Background
Research and study into the workflow used in the industry has highlighted a slow shift from paper and PDF based project communication to digital and cloud based technology allowing for near real-time collaboration that is only really restricted by geographic location and time. We can't alter time zones but we can go some way to breaking down the barriers of distance.

We know that designers utilise modern tools such as Revit and NBS Create for their own internal efficiencies. But often still distribute the output across the project team as paper or PDFs.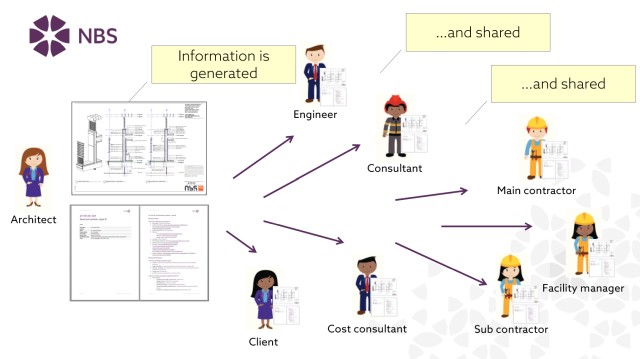 When we hesitate before printing an email out these days, the thought of massive quantities of complex data being shared in multiple instances by paper seems outrageous but this is often the norm. Ok, we have to acknowledge that there are legal and security reasons why something might be shared by paper or PDF but all too often the everyday documentation is shared in the same way as a cultural workflow habit.

Continuing our research in this area and building upon the years of development work as part of the Autodesk Developers Network, we further strengthen our relationship as an Autodesk Solution Associate and utilise this next generation of technology.

As a result, we have developed a prototype online specification and model viewer as part of the NBS BIM Toolkit, to assist collaboration within the project team.

So how can we help efficiencies in the BIM collaboration workflow?

Paper/PDFs will still be required as contractual documentation, but in addition, the designer can upload the model and specification to the NBS Online Viewer for better collaboration with the team.

The viewer allows visualisation and interrogation of a coordinated spec and model, active links to manufacturers' data and standards. All through a browser without the native software or licenses.
Early public testing - The closed beta
On 24 February we presented the first of 3 WebEx sessions to a select group as part of a closed Beta (initial steer and testing)

Users logged into pre-created test accounts with a pre-loaded project, specification and linked model so they could dive straight into the evaluation.

During a two week period of further evaluation, testers were asked to upload their own models and specification to test the viewer with real world data and report back on their experience.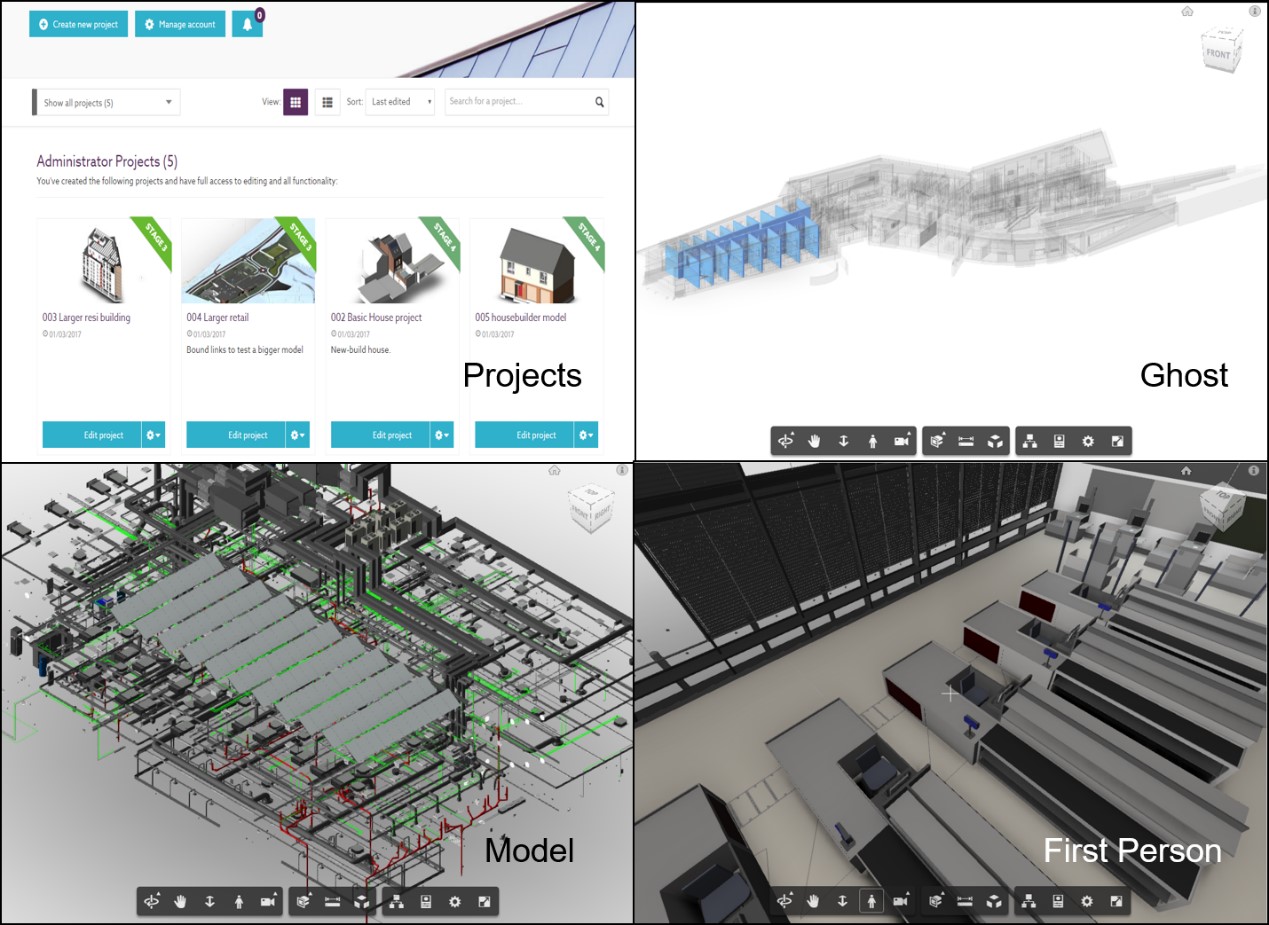 Images: Origin 3 Studio, JDDK, Capita and Space Group
(View larger)

The end of the test cycle was marked by inviting some of the testers back to present their feedback in a Show & Tell style web meeting with NBS and the Autodesk Forge teams (UK and USA).

Special thanks to the following practices for their participation and detailed feedback which will shape the beginning of the next phase in testing: Origin 3 Studio, Capita, JDDK, Space Group, BDP, Ryder, AHMM, Turner + Townsend, DMA, Mott MacDonald, Bryden Wood and BIM Academy.
How your feedback is used
Although it may not be possible to develop every suggestion into a feature or function, all the feedback is captured, collated, reviewed and where possible we will publish the idea so that other users can vote on the importance and strengthen any case for change.

This focus on User Driven Development is important to us and with your input it will ultimately improve the product experience for you and future users.

We thank you for your participation in this research and look forward to further discussions on the NBS Online Viewer project.
Related articles
Introducing the NBS online viewer
This article introduces some new public beta functionality that allows models and specifications to be uploaded and viewed from the context of a project within the NBS BIM Toolkit. We're hoping that this new functionality will be well received by NBS users within their existing BIM workflows.

NBS BIM Toolkit - Support
Learn more about the NBS BIM Toolkit using our technical and software support articles.
Find out more about the NBS Beta Test Programme