What is NBS Plus
NBS Plus is a library of building product manufacturers details linked to clause guidance in the NBS specification products NBS Create, NBS Building, NBS Landscape and NBS Chorus.

NBS Plus is updated regularly, so you can be confident that you are always referencing the very latest manufacturer product information.


NBS Create and NBS Plus
The new specification tool, NBS Create, easily allows products to be specified quickly and accurately, either in generic terms or by selecting manufacturer and product references.

Over 20,000 product specifications from more than 600 construction manufacturers can be found in the NBS Plus panel of the NBS Create.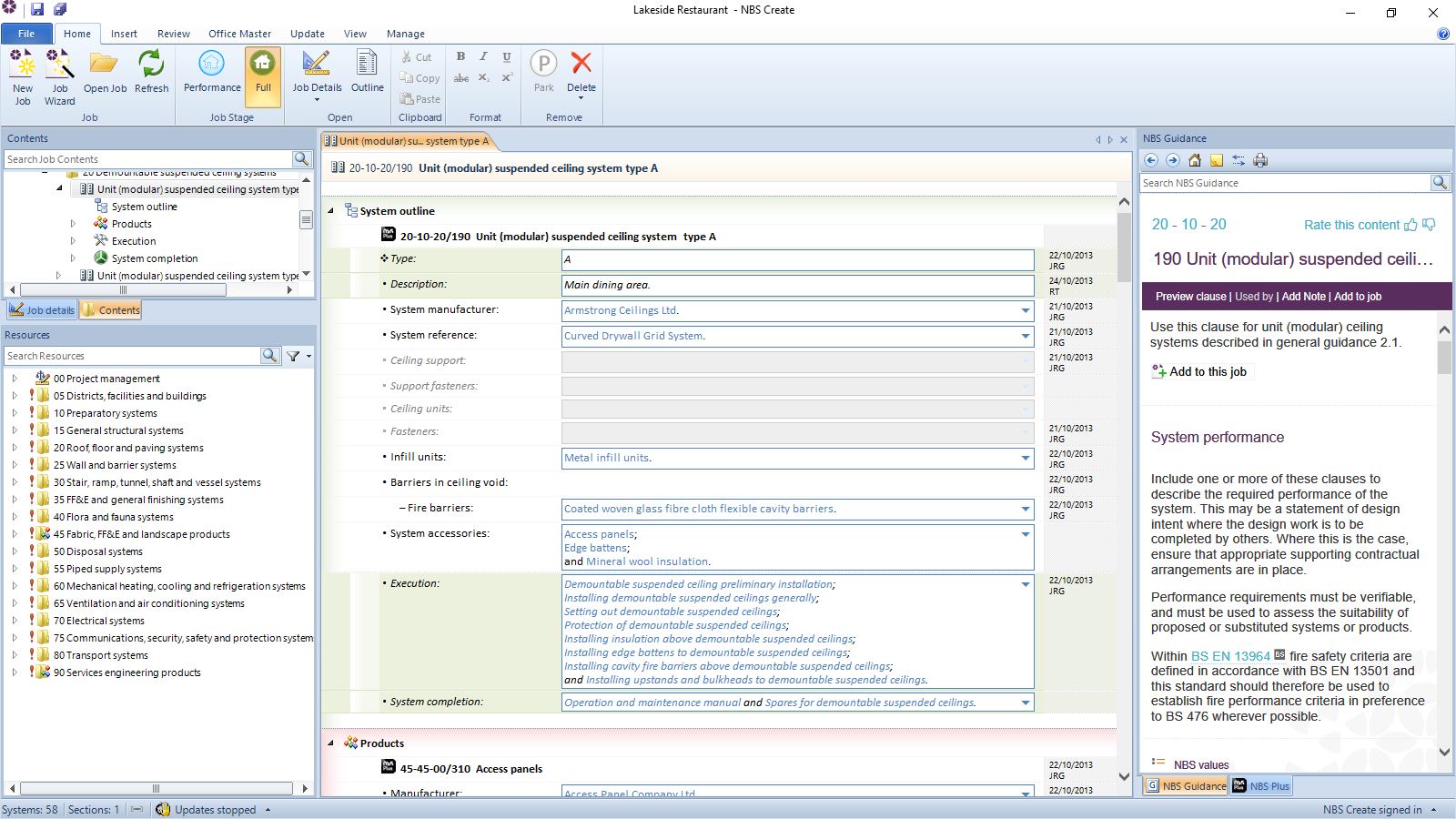 This library of manufacturers' product information is linked to specific clauses within NBS Create and provides relevant manufacturers products, ensuring you have them at hand when you need them most; when using proprietary methods to complete a job.
Specifying construction products using NBS Create
NBS Plus now gives you the ability to specify manufacturer products in a number of workflows depending on the project and the product. Four of these are detailed below.
1. The specifier knows the product they require as part of a parent system. In the example below, the specifier has picked a number of products from the parent system "Unit suspended ceiling system".
1. From the generic NBS product clause - pick the manufacturer required for the job

2. Then pick the product reference (with the help of guidance if required)
3. Finally specify any optional values for that range of products e.g. Colour, size...
2. The specifier needs to browse products from the context of a parent system
In this second example, the specifier knows that they would like "mineral fibre infill units", but does not know which brand.
1. The specifier browses the relevant products available in NBS Plus
2.Once a suitable product has been found select the Add Product button. This will bring in the products information to your specification.
3. The specifier knows the product they require but not necessarily the parent system
Consider the situation below where the specifier wants to add a particular brand of hand drier to the job, however, they do not know exactly what parent system the product belongs to.
1.The user browses to the manufacturer by selecting the Manufacturers A-Z option within the NBS Plus panel
2. The user finds the product they require and clicks Add To Job to insert the product into the job.
3. The user will be presented with an option to add it to an existing system or to select a new system - select New System From Resources
4. A window will appear showing commonly associated systems for this particular product.
4. The specifier needs to add a product to one of the parent systems in their job
Finally, taking the third situation a little bit further, the user may wish to select from a system already in the job.
1. The user has found an additional product to specify and has selected Add To Job within the NBS Plus panel. When the Add To Job window appears select System Already In My Job to insert the product into an existing system.
2. A window shall appear to show commonly used parent systems for the selected product that are already in your job.
Video demo
NBS Director of Design and Innovation, Dr Stephen Hamil, demonstrates how NBS Create has been designed to enable you to quickly and easily specify construction products either generically or by using manufacturer and product references. This guide also illustrates how to export a full list of all the manufacturers and product specified in your NBS Create specification, plus how to output into a COBie format.
Specify a System Product using NBS Plus
NBS Plus, within NBS Create, also now includes system products linked to system clauses, which enables you to swiftly specify a product that creates a complete system or a major component of one. Find out more on specify a system product using NBS Plus.
Further information
If you require further assistance using NBS Plus in NBS Create, please contact us on 0345 456 9594.
We are constantly adding new manufacturers to NBS Plus. However, if you know a manufacturer that is not currently within NBS Plus, please let us know and we will do our best to include them.