Summary
When printing or exporting in NBS Create, you may see an error message saying "It was not possible to add the selected item. Please check with system administrator that you are still licenced":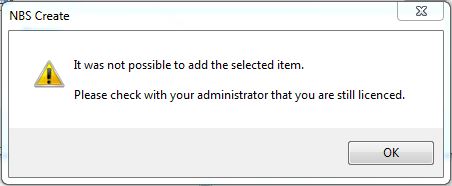 After clicking on the 'OK' button, the program crashes and prompts you to either send in an error report to us or close the program.
Resolution
The issue arises when the Title field in your Job Details area is empty. Here are the steps to resolve the issue:
In the 'Contents' area, select 'Job Details' then click on 'General' (if you can't see 'Job Details', go into the View tab on the top and check that 'Job Details' is highlighted in the Panel.





The 'Title:' field will be empty. Fill in the field with some text and save the changes (this title will be displayed in your specification if you have [!Specification Title] on your cover page).





You will be able to print out your specification without the error now.