Changes in your specification are recorded as milestones and published with Revisions. Here are some top tips to get you going:
1. When to record your first milestone.
We recommend taking your first milestone at the point from which you want to compare in the future, then record a milestone every time you issue a version of the specification you want to show changes against in the future i.e. each public issue.
Why?
When publishing your specification and showing revisions, you are publishing today compared with a previous milestone.
2. Include the System Separator page when you publish.
First, tick the 'Include Revision Information' check box in File > Print > Revisions
Then ,tick the 'System' check box in File > Print > Cover Page & Separators menu. The 'Chapter' separator page (which is ticked by default) shows which systems have changed. The 'System' separator page shows changes at a clause level.
3. Show inline revisions when you publish.
Select the 'Show inline' clause revision details in File > Print > Clauses menu.

This setting will display a red line of text below each clause which has been changed since the milestone. (Please Note: you should have v1.6.1 or newer installed for this feature).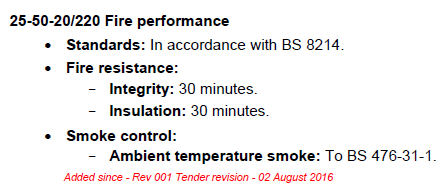 4. Comparing milestones.
As the author you can compare the changes to the specification between two milestones on-screen. When publishing revisions you are showing the changes between the specification as it is now with a previous milestone you have recorded. You won't be able to print out a comparison between two milestones.
5. How to indicate the current version or revision of your specification.
NBS Create identifies the current versions by today's date. Currently there is no auto text function for the current versions or revisions.
A workaround would be to manually insert this as text in the 'Cover Page & Separators' area or after you have exported to Microsoft Word.
Additional guidance
Milestones and publishing revisions are explained in more detail in the free NBS Create eLearning course.