The Office Masters are a powerful way of pre-completing clauses you often reuse on jobs and add your own practice knowledge in NBS Create.
The scope of NBS is broad and some content may not all be appropriate to your organisation. In addition, some specialist content may need to be added. Office Masters can be created within NBS Create, which adds/remove and customise the specification text to standardise and suit the way your organisation creates project specifications.
This method can result in significant time savings when creating project documents. Office Masters can include user guidance to document what has worked well in the past. By keeping the Office Master up to date, this helps ensure that all project documents are up to date also.
This is a short guide with some things to consider when setting up your Office Masters.
See also: How to create, edit and publish office masters.
Office Master development is covered in more detail in the NBS Create Specification Management training.
1. Have a strategy - what do you want to use the Office Masters for?
Office Masters work well when:
The majority of clause items will be pre-completed, or complex information is authored repeatedly in many projects.
You want to further develop the NBS clauses or write your own based on specialist knowledge.
You save notes for what has worked well in the past and practice knowledge.
Try to avoid:
Adding content only relevant to a specific job.
Deletion being required once the Office Master is added to the job. Consider adding individual Office Master clauses rather than whole systems.
NBS Plus content in your Office Master. This information will be saved but is not subject to the Update process like NBS Clauses. More about Update. For content currency, we recommend adding them when working on the job specification.
Before you start with Office Masters, check you have the latest version of NBS Create installed. Click on the Update menu > Software Updates.
2. Think about who you want to write and maintain them.
Permissions for Office Masters, Notes and use of the Update function can be set for defined user groups and individuals. More info on setting permissions.

3. Add a note instead of an Office Master when just providing guidance will suffice.
Setting up a new Office Master system or clause when you are only wanting to give the user a steer is not necessarily the best option. Adding a note in the guidance panel may be better.

Notes added to Office Master systems or clauses will also be displayed against the NBS versions. More info on adding guidance notes.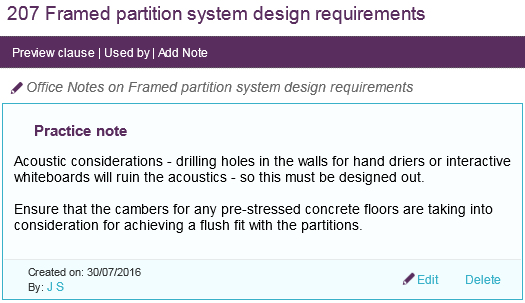 4. Generate and define a tagging protocol.
Office Masters allow you to compose different versions of systems and clauses that may be used for different types of project such as education, medical, industrial and so on.
Tags are used to differentiate between different versions of the same system or clause in your office master.

You may also decide to build up Office Masters that are relevant to repeat work from different clients.

Aim for consistency across all offices with consideration for other users. (E.g. Clay bricks – LDN-SE, coastal, generally, Project Delta). More on tagging.

5. Start from the Resources panel.
In order to get the best experience when building your Office Masters, we recommend starting with a clause or system from the resources panel and then draw on past projects that worked well to construct your Office Masters. Support this with your own user guidance notes.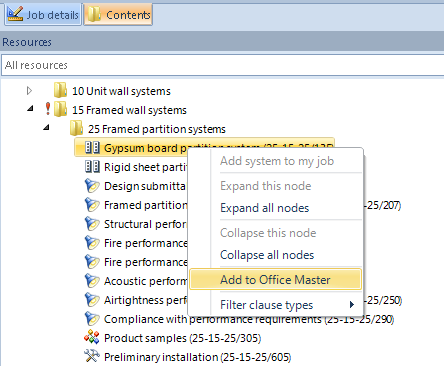 6. If uploading from a job, unpark first.
If you are using content from an existing job to create an Office Master, it is good practice to unpark any clauses in that system BEFORE you upload it to the Office Master Library. This means that you will have a better editing experience when managing the Office Master content in the future.
7. Publish after editing your Office Masters.
Whilst an Office Master clause is being edited (in Draft mode), other users will be able to access and add the original Office Master clause to their jobs.
When the Draft version is published, the Office Master with the same title/tags is replaced and superseded.

Avoid leaving clauses in Draft mode. Once you have made your changes, always return the clause to Published.