Contemporary Vernacular Design:
How British Housing can Rediscover its Soul
Claire Nash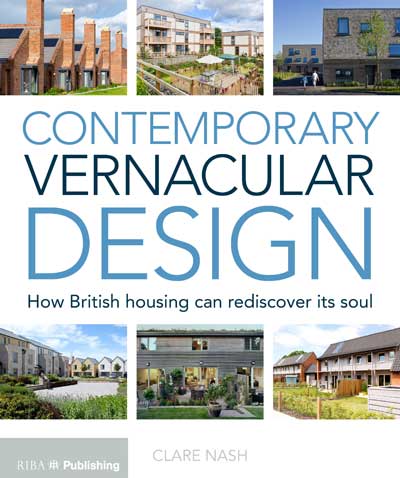 This is a 'coffee table book' which intelligently conveys a serious message.
Contemporary Vernacular Design... is a book for professionals and laypeople alike. The introduction sets the scene, stating the author's disappointment with the current British housing market; overwhelmingly supplied by volume builders; producing built environments lacking in identity, diversity and spirit. In five parts, Clare Nash builds an argument for how and why we must return to vernacular principles to create successful housing and communities for the future.
Part one gives an overview of house vs home, the impact of public sector, and the importance of the planning system, with a comparison to other European countries. In parts two to five, the author presents 26 case studies of housing projects in UK, Europe and the rest of the world. Each case study is presented in a self-contained chapter with information spanning from preliminary stages, location and context, through to tenant's satisfaction surveys. The layout makes the book easy to dip in and out of. All case studies demonstrate how contemporary vernacular design is anything but pastiche.
Contemporary Vernacular Design... argues for changes to the way 'housing' is conceived in the UK in an in-depth and refreshing way. The ideas are not new, but maybe we needed to have them stated again in this very accessible format.
About this book
Contemporary Vernacular Design: How British Housing can Rediscover its Soul was published by RIBA Publishing in November 2016 and is available to buy from RIBA Bookshops, in paperback (ISBN 9781859465844) priced £40.

About the authors
Clare Nash
is a chartered architect, author and teaches architectural technology and business at Oxford Brookes University. Clare studied vernacular architecture in the UK and abroad, completing a masters at Oxford Brookes University. This took her to Bolivia, Papua New Guinea and China looking at case studies. The findings of her research are applied to her work and modern day sustainable designs. She has perviously lived and worked in architectural practice in Germany and Liechtenstein, very close to the famous Vorarlberg/Bregenzerwald region.