The NHS is never too far away from the headlines, particularly in an election year.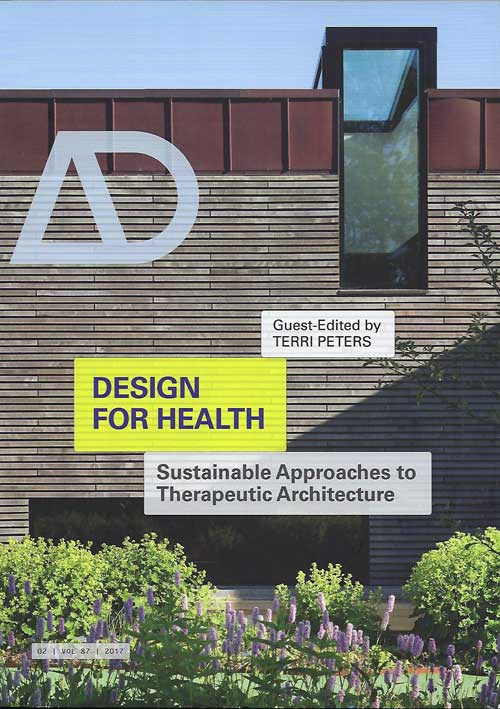 Last winter was a particularly challenging one as front-line staff responded to extraordinary pressures and this week has seen the chief executive of NHS Providers warn that investment is needed to prevent wider failures than last winter with the safety of more patients potentially being put at risk.
The funding, capacity and efficiency of the NHS are oft and well-debated elsewhere. That said, with healthcare back in the spotlight, it's an opportune moment to consider the changing requirements of our hospitals and how we can all play a part in delivering better buildings to help keep us all fitter, healthier and living fuller lives for longer.
Enter the latest collection of essays from AD which muse on the theme 'Design for Health'. Here contributors wax lyrical on innovative and varied sustainable architectural responses to designing for health, such as: integrating sensory gardens and landscapes into the care environment; specifying local materials and passive technologies; and reinvigorating ageing postwar facilities.
Annmarie Adams attempts to decode modern hospitals by way of an architectural history. As we move towards preventative measurement and monitoring (those fitness wristbands are only the start) and thus data-driven interventions, it will be interesting to see how healthcare and hospitals evolve still further. Enter Robin Guenther's Counterpoint piece on how we build restorative healthcare.
Elsewhere contributors explore how a sense of coherence can support the healing process, how to foster patient-focused architectures and how to consider wellbeing as we design right across the city - in our homes and workplaces.
The last word
With the percentage of the UK population over 65 growing, healthcare requirements are changing - fast.
We're moving from an era of treatment to an era of prevention and that shift will transform our healthcare estate, not to mention our homes, workplaces and cities.
With all that in mind this edition of AD serves as a manifesto for digitally-powered construction that delivers spaces and places in which people can grow and thrive. And, crucially, it also serves as a timely, topical and thought-provoking reminder of the potential of our industry to significantly and tangibly improve the quality of people's lives through better buildings.
About the authors
Guest edited by Terri Peters.
Contributors include: Anne–Marie Adams, Sean Ahlquist, Giuseppe Boscherini, Robin Guenther, Charles Jencks, Richard Mazuch, Stephen Verderber, Featured architects: 100% Interior, Arup, C.F. Møller, Lyons, MASS Design Group, Mongomery Sisam Architects, Penoyre & Prasad.Shajay Bhooshan, John Cays, Randy Deutsch, Sean Gallagher, Ian Keough, Peter Kis, Jonathan Mallie, Adam Modesitt, Rhett Russo, Dale Sinclair, and Stacie Wong. Featured architects: Arup, Diller Scofidio + Renfro, GLUCK+, GRO Architects, PLANT, Populous, Young & Ayata, and Zaha Hadid Architects.