NBS Create is 'specifying made simpler, faster and more intuitive'. Ian Chapman, Head of Specification, explains the features of Create in the launch version for building services engineers.
I've been looking forward to writing this article for quite some time because I know how hard the engineers in the technical team have worked to create the content. It all started back in 2003 when we created our first building services master specification, launched as NBS Engineering Services in 2004. This content was structured in a particular way – the way engineers think. It was organized by services systems and included performance clauses and prescriptive product specifications – a UK industry first. At that time, Building Information Modelling (BIM) was on the horizon but the NBS software hadn't been built to support it. However, the content was authored with BIM in mind – for example, it was deliberately given a precise structure and this was applied consistently to all specification sections. When launched, NBS Engineering Services was well received, the content was fresh and bang up to date, and it avoided being too wordy – often a concern of engineers when using such systems. Engineers saw the value in the robustness and currency of this content and switched from their own in-house system or other master specification tools to NBS. Since then the popularity of NBS Engineering Services has grown, and it is now on the brink of a major change, entering the world of BIM.
Whilst information modelling tools were in their infancy in 2004, customer needs and demands for more sophisticated specification writing tools were not. One regular customer request was to enable the assembly of the specification automatically; more specifically, the ability to add more detailed clauses to the specifications based upon the choices made in outline description clauses. For example, if in a heating system outline clause you specify a condensing boiler, can the condensing boiler product clause and its corresponding execution and commissioning clauses be automatically added to the specification. This customer request was entirely reasonable, but to deliver this meant the creation of a complex information model and NBS Create was born.
To achieve what our customers requested we had to create an entirely new authoring environment, then rewrite all our technical content and introduce sophisticated information modelling techniques that allow the services authors to connect related clauses together. We've developed a brand new information model and this is now the home and delivery platform for all NBS specification content. This information model offers many opportunities for ourselves and customers, it is truly ground breaking. It gives our software the ability to understand the meaning of our content – and with that knowledge our master specification system can now do some very clever things. NBS Create operates at whatever project stage or level of detail you require. Creating an outline specification or RIBA Plan of Work stage C report is quick and easy; then if you want to come back to that specification a few months later and turn it into a performance specification you can. BIM is all about building upon information created earlier and assembling this information. NBS Create handles re-use of information exceptionally well and enables items to be 'parked' for decision later, recognizing that at certain times not everything about a project is known.
Creating a project specification is easy, simply select the systems that the project needs and add them to your job. You can search for systems or navigate the brand new Uniclass work section hierarchy. If you want to create an outline report, the outline view is all you need. This allows descriptions to be entered against each system in your job – ideal for things like stage C reports. Beyond that, you may wish to develop performance specifications or full detailed specifications that reflect the requirements of your design.
Whether the specification is performance, prescriptive or a mix of both, completing it is easy. NBS Create is unique in its approach to specification assembly, gone are the days of having to delete or deselect clauses that are irrelevant to your project; as we know, this can lead to unnecessarily lengthy specifications due to lack of confidence to delete. The approach NBS Create takes is to assemble the specification based upon decisions made when completing the system outline clause. Each system has an outline description that can be completed and used as a scope of works. However, the usefulness of the system outline clauses goes beyond their ability to generate a scope of works description, when choices are made in an outline clause the remainder of the specification is automatically assembled. This is a huge time saver and creates project specifications that are precise and highly relevant. This concept flows into other clause types, such as execution clauses which now automatically link to general requirements for installation without you even having to click the mouse.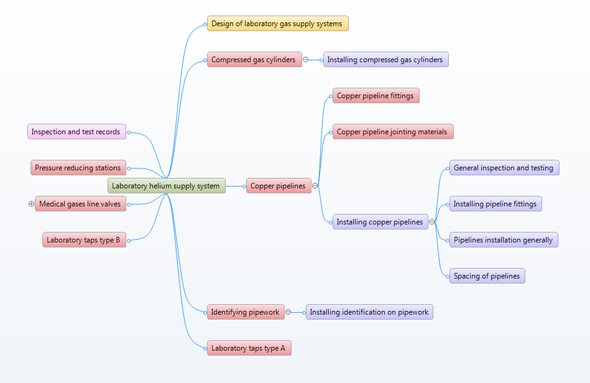 Figure showing a visualization of a laboratory gas system
System visualizations demonstrate the depth and power of the information modelling undertaken by NBS. This pictorial representation of a building services system explains and identifies how NBS clauses for a particular system are related. These visualizations are part of NBS Create and can be used as a navigation aid to jump to the desired clause.
Another big improvement is the ability for NBS Create to include content from any library. This enables complete specifications to be worked on and published by the project team. Single documents containing preliminaries, building services, architecture, structural and landscape sections can be produced. This aids collaboration and helps multidisciplinary project teams to produce coordinated documentation.
The ability to customize NBS Create to suit the way you work is another great feature. Whether you want to alter the screen layout (which is memorized for you personally) or to add specific technical values to supplement NBS drop-down lists, it's all possible.
By modelling NBS specification information, we've been able to not only speed up specification creation through the automated clause inclusion but enable a range of automatic reports. For example, a report identifying all of the contractor's decisions, be they design or selection, can be generated at the click of a button – an ideal report to share at the pre-start meeting. Other reports, such as a manufacturer report, are easy to generate too.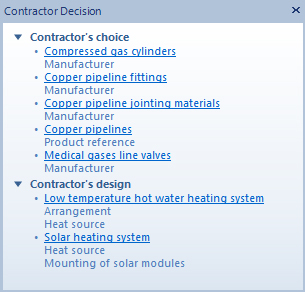 Figure showing report identifying decisions to be made by the Contractor
Because NBS Create has been designed to allow project specifications to evolve throughout the life of a project, it includes sophisticated revision and comparison tools. These tools enable tracking of changes to the specification throughout its life. Milestone versions of your project document can be taken at any point. These milestones record the specification and allow one version to be compared with another. Comparisons are easy, simply select the milestones and NBS Create presents a detailed report of the differences, versions are displayed on screen and the differences between them highlighted in colour.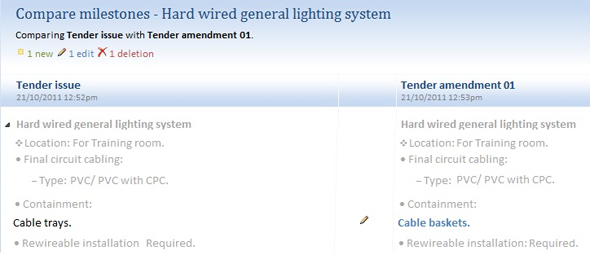 Figure highlighting the difference between two milestones
Accompanying the specification clauses is detailed NBS guidance. This is invaluable and makes filling in the clauses simple and clear. NBS guidance is often accompanied by links to reference documents and websites offering useful information for further research. NBS Create recognizes that specifiers have their own knowledge that is collected from good and bad project experiences and allows recording of user guidance within the regularly used NBS guidance.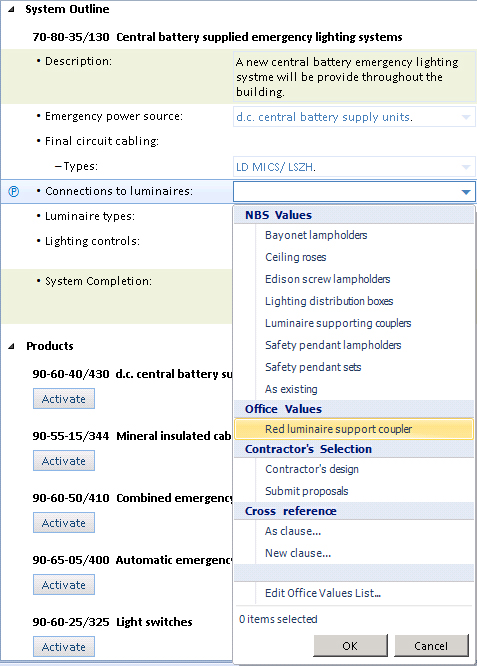 Figure showing user created office values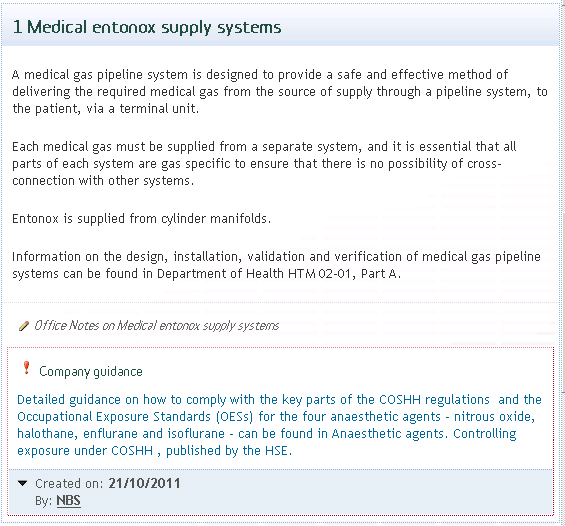 Figure showing user added office notes positioned alongside NBS guidance
The software technology behind NBS Create is cutting edge. It has been written from the ground up. NBS content is accessed online so you are guaranteed to always be using the latest information without having CD installation to worry about for updates. Online software licences also mean that you can use NBS from any location.
Drawings and other project documents are often referenced from the specifications and NBS Create makes this easy. The projects documents that are listed in the project management part of the specification are made available to reference from any NBS clause. So if you know the requirement is shown on a drawing, you can be helpful to the reader by directing them to it.
The feature list of NBS Create is extensive and this article gives a mere glimpse of what's possible; to give you a taste of what else is in there, here's our export menu.
You'll see that the list contains an export format called COBie (Construction Operations Building Information Exchange). This format is recommended by Paul Morrell, the government's UK Chief Construction Advisor, for all public projects. So if you don't have a specification tool that exports to COBie, then creating as-built information and providing it in COBie format will be tricky. For more information, see the article 'What is COBie' by Dr Stephen Hamil.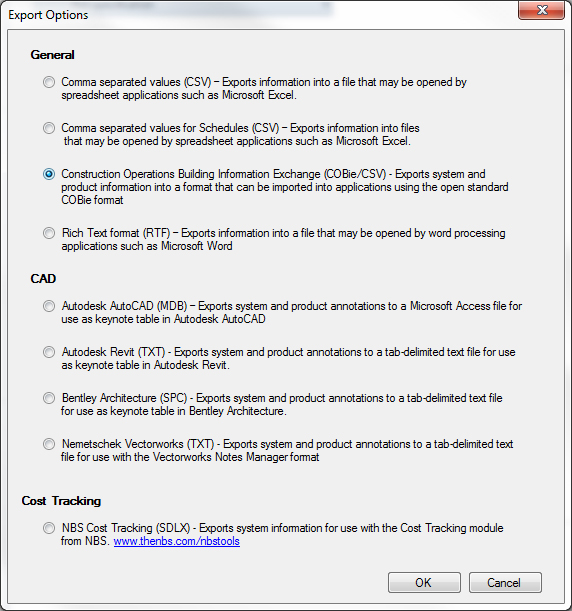 NBS Create allows you to specify the way you want, when you want, to the level of detail you want and in the format you want. Use of NBS Create will result in a precise and robust project specification that can evolve with the project. NBS Create redefines how specifications are assembled and should be an essential component of your BIM toolkit.
And for those working on architecture, landscape and structural engineer projects, fear not, NBS Create is not reserved for building services engineers only, it will be available to you also from March 2012.
Find out more
You can contact Ian Chapman to discuss NBS Create and this article in more detail using: