Summary
When using the NBS Plugin for Autodesk Revit, you have the option to annotate objects with NBS clause and product information. By default, these tags are all on one line. However, there is an option to split the information onto new lines.
Solution
Open the NBS tag (e.g. the Multi-Category tag) in Revit from the following location:
C:\ProgramData\Autodesk\ApplicationPlugins\NBS.bundle\Contents\SupportFiles\NBS Plugin for Autodesk Revit\Tags
A couple of things to note:
C:\ProgramData is a hidden folder in MS Windows. So you may need to change your view setting to show hidden files and folders in Computer/File Explorer to browse to it from Autodesk Revit.
You may want to take a copy of your tags before editing them so you can restore them if necessary.
If unsure, we recommend trying this on a sample job rather than a live job first.
If you edit the tag files they will be replaced and your edits undone when you install the next software update for the NBS plug-in.
2. Once the tag is selected within Revit, click on the Modify/Multi-Category tag, followed by Edit Family

3. A new window shall appear. Re-select the tag, click on the Modify/Label menu, followed by Edit Label



4. The following screen should be displayed.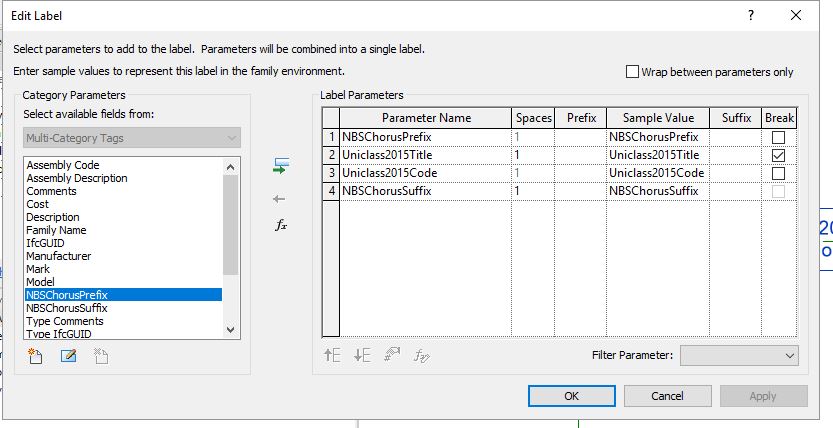 5. Tick the "Break" checkbox which will put a line break between the different elements of the tag. Then load it back into the project as normal.