Symptoms
When launching NBS Contract Administrator the following error message is displayed:

"An error has occurred. This could be due to NBS Contract Administrator attempting to open an invalid database".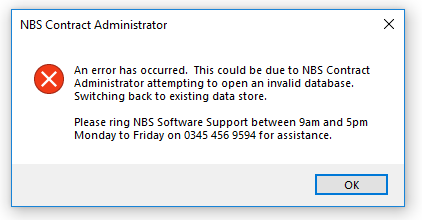 Cause
There are 2 reasons this error can occur:
If you do not have appropriate permissions to the Datastore file (CAFtab.cadb).
The Datastore is corrupt - this if more than one user on a shared network is experiencing the same issue.
Resolution
Please contact your system administrator to check that permissions on the CAFtab.cadb file are set correctly. To view the system permissions on CAFtab.cadb:



Right click on the CAFtab.cadb file in Windows Explorer and then select Properties.
Click on the Security tab.
Make sure the permissions are set to Full Control.
Click Apply then OK and try loading the software again.

If you do have the appropriate permissions, your Datastore could be corrupt. Before sending in the CAFtab, we recommend doing the following:



Open NBS Contract Administrator Tools - this is generally installed with NBS Contract Administrator and can be searched for in Windows search. Alternatively go to Start > Programs > NBS > NBS Tools > NBS Contract Administrator Tools.
Click into the Compact and Repair tab.
It should be looking automatically at the correct CAFtab - if not, then browse to the correct Datastore.
Tick the checkbox to replace the original CAFtab, and click the "Compact and Repair" button.




If the Compact and Repair option failed, you will need to contact NBS Software Support on 0345 456 9594.