Summary
NBS Plus is a directory of manufacturers products that you can browse and add directly into your schedule. It can be accessed using the internet to ensure that you have access to the latest manufacturer information.
The online directory is updated by NBS on a monthly basis. For users who do not have an internet connection NBS Scheduler will automatically switch to an offline version. This is update three times a year.
More information
The first time you access the software, the following message will appear and you can make the decision whether to access your NBS Plus information online or offline.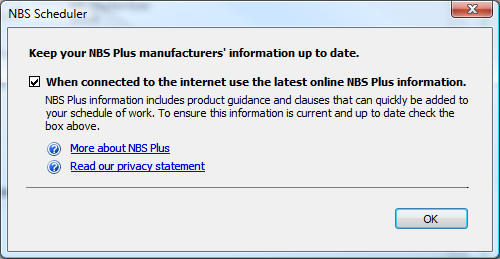 You can also change your NBS Plus from online to offline and vice versa by clicking on
Tools
>
Options
and selecting the
NBS Plus
tab.
Leave the checkbox selected to access the latest NBS Plus information. NBS recommend that you use online manufacturer information for the following reasons:
Where a manufacturer has included product images you can click on them to see a larger version in a new window
In your NBS options you can specify the manufacturer contact details you wish to add to your schedule, from a concise product clause with just the manufacturer name to a fuller clause with web address, postal address, telephone and fax number
When presented with a selection of manufacturers to choose from you can sort these in A-Z, Z-A or new contract order
A more functional and responsive A-Z manufacturer listings page and CAWS index page.
What if my internet connection fails?
If there is a problem with your internet connection, NBS Scheduler will revert to using NBS Plus information that is installed locally. You can change to look at the local NBS Plus information by clicking on
'Work Offline'.