Summary
Job in Progress is used to incorporate details for an "existing" job into the NBS Contract Administrator software.
Other scenarios that may require a Job in progress include.
To continue a job that was started on the paper forms.
To reissue a form that has been issued and cannot be recalled.
To amend any of the job details that have changed since the job started, but are locked in the Job Details editor.
To convert a job with 2005 contract into the corresponding 2011 contract.
More information
Job in Progress requires you to note down the details of your existing job, and allows you to restart it and continue processing from a point of your choosing. Below are the steps to creating a Job in Progress:
Step 1
Go to the job that you would like to change.

Click on Job details.

Make note or take a screenshot of the Job Details screen.


Step 2
Click on Create new job in progress



Enter all of the job details on the job in progress (we recommend using a different reference number).

Select the correct (or new) contract type:





Once this information has been entered, tick the Job in progress box:



Step 3
When Job in progress has been selected, the wizard below will appear. You need to complete the fields relevant to your job on each tab.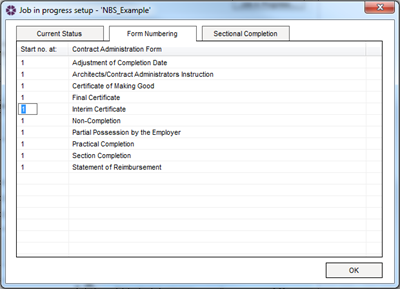 Important: You must complete the Job in Progress wizard before drafting any forms against this job. Once a form has been drafted, the wizard form will be locked to editing. This is due to the robust audit trail within NBS Contract Administrator.
The job in Progress wizard explained:
Current Status tab




---

Enter the financial information about your previous job. The Current Status section of the Job Details editor will update based on the information entered in this section.

---

Nominated Sub Contractors tab



---

This tab will only be available on JCT98 forms of contract. It will only be populated with editable fields if Nominated Sub-Contracts have previously been entered in the Nominated Sub-Contracts editor.

---

Sectional Completion tab




---

This tab is available on IFC98, JCT98, SBC05, IC05 ICD05 and 2011 forms of contract. It will only be populated with editable fields if details of sections have previously been entered in the Sectional Completion editor.

---

Form Numbering tab (see image below)
You may want new forms you issue to begin at a certain number; use the Form Numbering tab to do this.

This tab is used to set the start number for each Contract Administration form number sequence. To set the start number:



Select the row relating to the Contract Administration form whose sequence start number you wish to set
A single left click with your mouse, in the appropriate cell in the 'Start no. at' column, will highlight the selected number ready for editing.


For example, if you have already issued two architects instructions and you want the next instruction to be number three, enter a '3' against Architects Instruction.

Please note: Sequence start numbers for Architects Instructions and Notifications to Nominated Sub-Contractors of amount included in certificate will only be displayed once these forms are issued. All other Contract Administration forms will display the sequence start number, as set in the job in progress wizard, in draft status.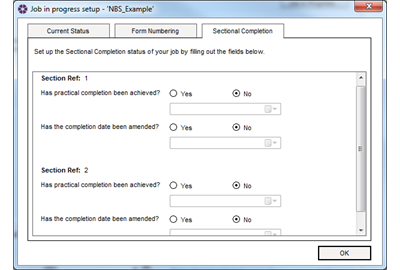 You are now ready to draft your next form; you should use this job record from now on. To save confusion you can archive your previous record, which hides any jobs you no longer want to display.

To archive a job, click on File > Move "your job" To > Archived Jobs

To view an archived job, click on View > Archives