The reference specification provides supporting statements of quality relating to the products and work.
More information
It is intended to be a standard document that requires no editing. Where any changes are required to the statements of quality, they will have an effect on the price of the work and as such should be included in the schedule of work. The reference specification is automatically generated and the work sections included depend on the NBS work items that are included in the schedule of work. The reference specification also contains a number of standard sections by default as these are assumed to apply to all projects. To add an additional work section to a reference specification or to create a reference specification in the absence of a schedule of work, click on the Ref Spec button

and the reference specification window will open.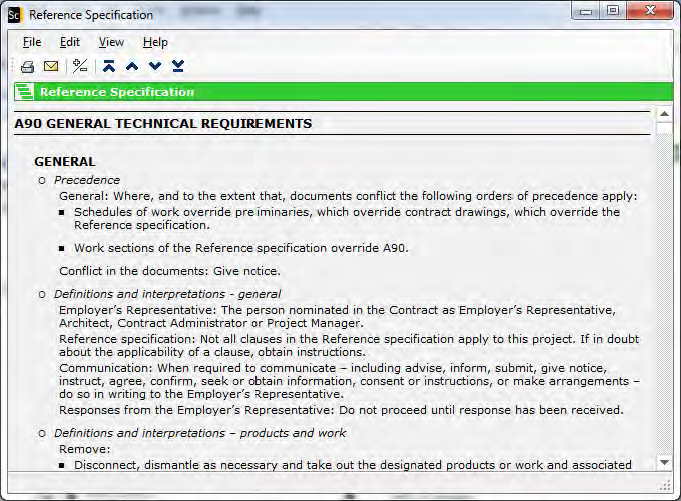 More sections can be added if required to the reference specification by clicking in the Edit menu and selecting Add / Remove Sections.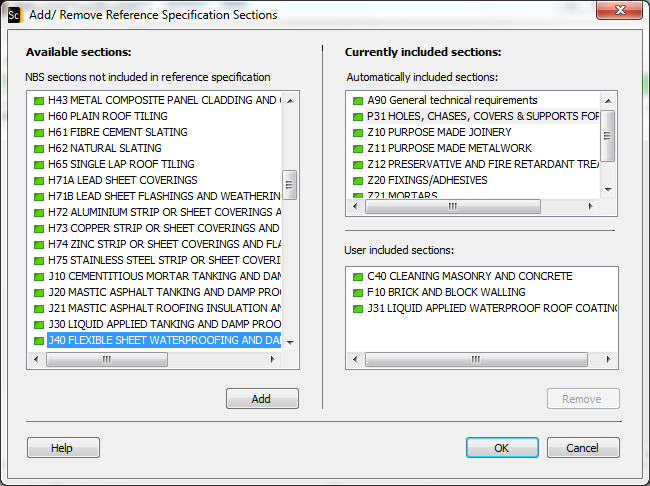 All sections that are not already included in the reference specification are listed in the Available Sections list. To add a section, highlight the section and click the Add button. Please note that these sections can be removed at a later date by highlighting them in the User Added Sections list and clicking on the Remove button.
To print the reference specification, from the File menu select Print Wizard. The print options window will appear. From this window, printing options can be customized to suit the needs of the office. Select Print when you have finished amending the printing options.
Copies should either be supplied to all tenderers or made available for inspection during the tender process.