There is no Interim Certificate issued under this contract. There is only a form for the Contractor's application for Interim Payment. This is available by changing the issuer details to 'Contractor'.
If you are the Employer or Employers Agent on the JCT D&B contract it is not your responsibility to issue the interim payment certificate.
Why?
The JCT D&B contract does not support third party certification. There is no Contract Administrator under this form of contract. Forms are issued by the Employers Agent who is effectively the employer.
It is the contractor who submits an application for payment (Interim Payment Application) which is then payable in a certain period of time.
In NBS Contract Administrator the role you set yourself up as within a JCT D&B job determines the contract administration forms you can issue.
These are:
Employer / Employer's Agent Forms
Instructions
Notification of an Extension of Time
Notification of an Extension of Time of Section
Notice of Non-Completion
Statement of Practical Completion
Statement of Practical Completion of Section
Certificate of Completion of Making Good
Final Certificate


Contractor Forms
Interim Payments Application
Statement of Retention
Record of Reimbursement
Statement of Partial Possession by Employer
Final Certificate

Your role is set in the Job details > Team tab for that job.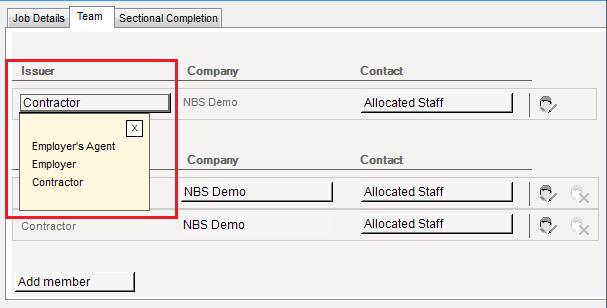 Related article
Employer's Agent Payment and Pay Less Notice templates for the JCT Design and Build Contract