A scarf, knitted with love, to keep Wor Geordie warm
Press Release
September 2016
A Snowdog at the heart of the recently launched Great North Snowdogs trail has received a paw-fect gift; a scarf, knitted in memory of a loved one.
Wor Geordie is one of 61 Snowdog sculptures – inspired by Raymond Briggs' The Snowman and The Snowdog - which have been positioned across Tyne and Wear in a fundraising initiative for Newcastle's St Oswald's Hospice.
And now the 1.5m Snowdog, which has proved a big hit with passers-by and trail visitors outside the city's St Nicholas Cathedral, is wearing a purple scarf knitted in tribute to a loving grandfather who was cared for at the Hospice.
Trish Robison, 58, from Walkerville, lost husband Brian, 59, in January to pancreatic cancer, but "he couldn't have been looked after better at St Oswald's Hospice," she said.
"He went in to help get his pain relief under control which, thankfully, the staff managed to do for him and the care and attention he received was superb.
"If he wanted a cup of coffee it was there, if he wanted something special to eat someone would go out to get it for him – and it was such a relief to know that he was being looked after by such caring, and genuine people."
Each of the large Snowdogs has been individually decorated by artists and celebrities and when Trish discovered her neighbour Rachel Leonard, a tutor at Newcastle College, had been tasked with decorating Wor Geordie, she asked if the family could provide him with a touching woolly tribute to Brian.
Rachel, along with Wor Geordie's sponsor, NBS, which is headquartered at the Old Post Office Building, opposite the Cathedral, were only too happy to oblige.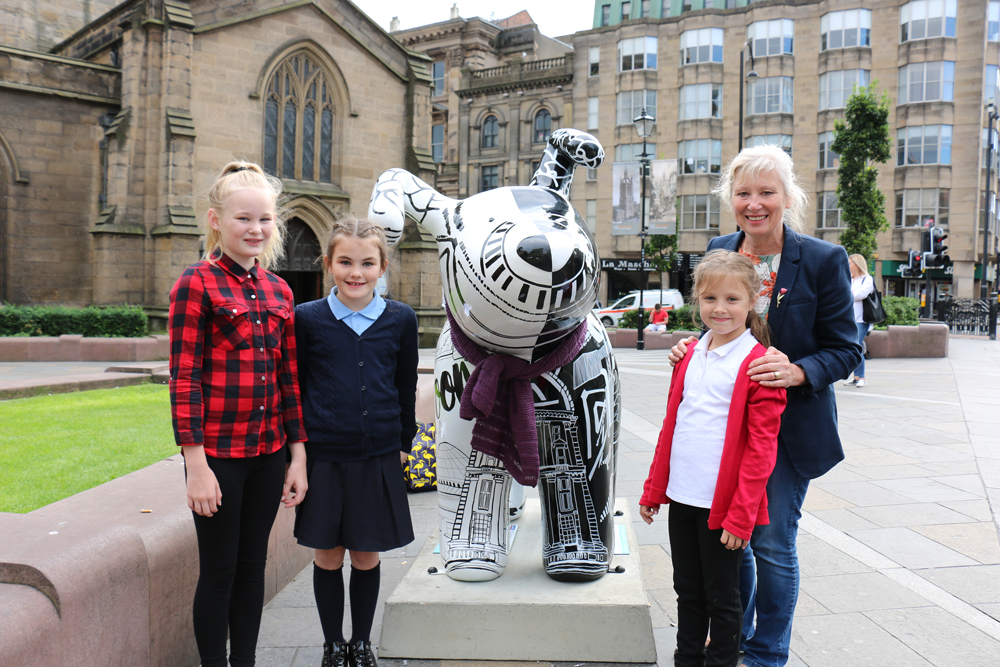 Left to Right (Lauren 11, Libby 10, Faye 8 and Trish)
Richard Waterhouse, chief executive at NBS, the UK's leading provider of construction information and knowledge management services, said:
"In the story, the Snowdog has socks to keep his ears warm and mittens for his paws so it is very fitting that Wor Geordie should also have a lovely knitted scarf – particularly as every stitch carries fond memories of someone cared for by St Oswald's Hospice."
"We are delighted with the response to our Snowdog, which has been admired by people of all ages and are thrilled to be taking part in such an exciting initiative which is not only showcasing the region to a much wider audience but is also supporting such a very worthwhile cause."
After the 10-week trail ends, on 25 November, Wor Geordie and the other Snowdogs will be auctioned to raise funds for St Oswald's Children's Hospice.
For more information, please contact NBS PR Executive Jennifer Scullion on 0191 244 5523 or email Jennifer.Scullion@theNBS.com.
Notes to Editors
ABOUT NBS: NBS, specialist provider of technical information for construction industry professionals, offers essential, innovative products and services, highly valued by those working in architecture, construction, design and engineering.
The premier source of construction-related information, NBS has produced the recognised national standard specification system for the UK for more than 40 years. It provides solutions for a broad range of new build, refurbishment, retrofit, landscaping and domestic projects for construction professionals. Delivered within a powerful software package, NBS's specification products continue to develop, leading an evolution of the specification and procurement process for buildings in the UK and overseas. NBS also provides solutions for contract administration and project information management.
NBS Create is a ground-breaking new specification tool that ensures all documentation works together intelligently throughout the entire project timeline, from concept stage to completion and beyond, to save time and money. More than 5,000 offices across the UK subscribe to NBS products, including 96 of the top 100 AJ practices.
The award winning NBS National BIM Library is also the primary source of free-to-use Building Information Modelling (BIM) content in the UK. It contains thousands of generic and proprietary BIM objects authored to the trusted NBS standard, all of which are data rich and are integrated with the world leading NBS specification software.
NBS is part of RIBA Enterprises Ltd, the knowledge management company of the Royal Institute of British Architects (RIBA). RIBA Enterprises employs 250 staff and has offices in London, Newcastle upon Tyne and Newark.
www.theNBS.com