Disputes still prevalent despite Government emphasis on collaboration
Press Release
9 July 2012

The number of disputes in the UK construction industry has not reduced and partnering has still not been widely adopted in spite of the Government efforts. These are the key findings of major new survey into contracts and legal issues undertaken by NBS.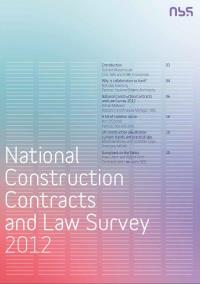 92% of the 1,000+ respondents said that the number of disputes had either increased or stayed at the same level, with the current state of the economy being cited most frequently as the likely cause.
These views are borne out by the fact that almost one quarter of those taking part in the survey had themselves been involved in a dispute during 2011. Most commonly, these disputes (86%) were between the client and main contractor, with the primary causes being extension of time and valuation of variations.
Partnering - which has been vaunted as the way to reduce disputes for many years - is still not being widely used by the industry. Only 6% of those who took part used a form of partnering or alliancing on all projects in 2011, while more than one-third were not involved in any form of collaborative working during the same period.
Questions about procurement and contract forms showed that traditional forms of contract (67%) still dominate, with single stage competitive tendering being the most widely used (78%). In today's technology dominated environment, more than 40% of consultants and clients are still not using electronic tendering in any form.
The research also highlighted the ongoing use of bespoke contracts rather than standard forms. Although standard contracts are still used in the majority of cases, almost one quarter of projects undertaken by those questioned used bespoke documentation.
Given that 20 years ago, the Latham report concluded: "Endlessly refining existing conditions of contract will not solve adversarial problems. Public and private sector clients should begin to phase out "bespoke" documents-, this appears to be a lesson not yet fully learned.
Undertaken by NBS with the help of the membership of more than 20 industry bodies, the survey is the most wide-ranging independent review of contractual and legal issues throughout the industry to date. Those providing responses to the wide ranging questionnaire include contractors and clients, as well as consultants.
Richard Waterhouse, Chief Executive of NBS's parent company, RIBA Enterprises said: "It is disappointing to see how relatively little seems to have changed since the publication of the Latham report back in 1994.
"It's clear that the Government is expecting greater efficiencies within our sector. These can best be made through increasing collaborative working between all members of the design and construction team and the adoption of enabling technologies such as Building Information Modelling (BIM).
"Given the exponential rise in the adoption of BIM it will be fascinating to see how responses to our survey change over the coming few years."
Download the National Construction Contracts and Law Survey 2012 (.pdf, 1.08Mb)
Find out more about the NBS National Construction Contracts and Law Survey 2012

ENDS
For further information please contact:
Sarah Rutt/Robert Pine
T: + 44 (0)20 7247 8334
E: sarah@ing-media.com / robert@ing-media.com
NBS
NBS, specialist providers of technical information for construction industry professionals, offers essential, innovative products and services, highly valued by those working in architecture, construction, design and engineering.
The premier source of construction-related information, NBS has produced the recognised national standard specification system for the UK for over 35 years. It provides solutions for a broad range of new build, refurbishment, retrofit, landscaping and domestic projects for construction professionals. Delivered within a powerful software package, NBS's specification products continue to develop, leading an evolution of the specification and procurement process for buildings in the UK and overseas. NBS also provides solutions for contract administration and project information management.
NBS produces a range of information delivery products, including The Construction Information Service, a joint venture with IHS. Since 2005, NBS has published the Building Regulations' Approved Documents for England and Wales. NBS TV provides specialist learning services for individuals and organisations working in the architecture, design and construction industry, offering unique high quality video content.
NBS Create is a ground-breaking new specification tool that ensures all documentation works together intelligently throughout the entire project timeline, from concept stage to completion and beyond, to save time and money.
More than 5,000 offices across the UK subscribe to NBS products, including 96 of the top 100 AJ practices. NBS is part of RIBA Enterprises Ltd, the commercial arm of the Royal Institute of British Architects (RIBA). RIBA Enterprises employs 250 staff and has offices in London, Newcastle upon Tyne and Newark.