Newcastle City Councillor and Cabinet Member for Investment and Development Ged Bell was guest of honour at a VIP event organised by NBS, as part of Newcastle Start Up Week.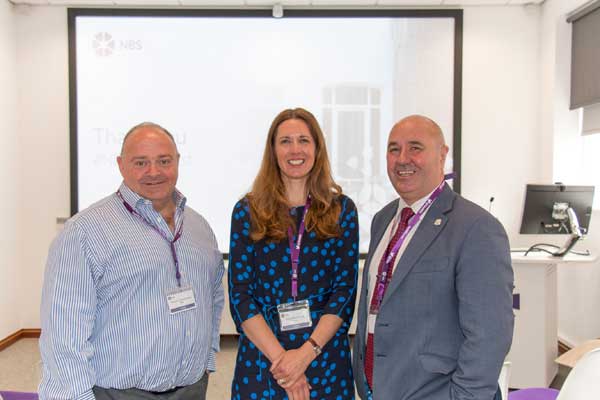 NBS are a leading global provider of construction knowledge and information management services and have recently invested £5.8million in the refurbishment of their offices at the Old Post Office in Newcastle City Centre where they employ almost 200 people.
They have recently announced global expansion plans and today operate all over the world with offices in Canada and Australia.
Commenting on the event Cllr Bell said with "I would like to congratulate NBS on their achievements and on the stunning transformation of the Old Post Office, into a state of the office for their business, which is now a global leader in the field of knowledge and information systems, for the construction industry based here in Newcastle."
But despite this success, NBS themselves began as a start-up and because of this they were keen to support Newcastle Start-Up Week and share their experiences as part of the week-long programme of activities
Richard Waterhouse, NBS Chief Executive said "We were very pleased to support this week, businesses are always about people and connections and at NBS we value giving great opportunities to our colleagues and building great relationships with our customers as we work at the cutting edge of digital development for the construction industry. Digital embraces all countries and all cultures and we are proud to operate from Newcastle the fastest growing digital economy outside London "
Anne McDonald, Engagement Manager at Dynamo North East, an industry led initiative focused on growing the tech sector in the North East said "Dynamo is passionate about growing the North East's IT economy and works with businesses of all sizes to achieve this. We were delighted to support this year's Newcastle Start Up Week and hope new businesses will be inspired to join the thriving digital sector in our region."
For more information please call HFPR Ltd on 0191 285 7100.
Image: NBS CEO Richard Waterhouse with Anne McDonald from Dynamo North East and Cllr Ged Bell.
About NBS
NBS, specialist provider of technical information for construction industry professionals, offers essential, innovative products and services, highly valued by those working in architecture, construction, design and engineering.
The premier source of construction-related information, NBS has produced the recognised national standard specification system for the UK for more than 40 years. It provides solutions for a broad range of new build, refurbishment, retrofit, landscaping and domestic projects for construction professionals. Delivered within a powerful software package, NBS's specification products continue to develop, leading an evolution of the specification and procurement process for buildings in the UK and overseas. NBS also provides solutions for contract administration and project information management.
NBS Create is a ground-breaking new specification tool that ensures all documentation works together intelligently throughout the entire project timeline, from concept stage to completion and beyond, to save time and money. More than 5,000 offices across the UK subscribe to NBS products, including 96 of the top 100 AJ practices.
The award winning NBS National BIM Library is also the primary source of free-to-use Building Information Modelling (BIM) content in the UK. It contains thousands of generic and proprietary BIM objects authored to the trusted NBS standard, all of which are data rich and are integrated with the world leading NBS specification software.
NBS is part of RIBA Enterprises Ltd, the knowledge management company of the Royal Institute of British Architects (RIBA). RIBA Enterprises employs 250 staff and has offices in London, Newcastle upon Tyne and Newark.