NBS is going for gold
Press Release
November 2016
A North East business at the forefront of construction technology has given its support to the region's growing digital sector.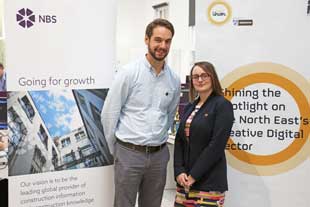 NBS, which provides construction knowledge tools and services to construction industry professionals, has become a gold sponsor of networking organisation Digital Union, run by leading creative digital development agency, Generator.
Digital Union was founded to build the profile of and provide support for the digital and creative sectors in the North East.
And NBS, which employs around 200 people at its office in The Old Post Office, St Nicholas' Street, hopes to use the expertise of the region's digital companies to lead a digital revolution within the construction industry.
NBS has provided technical information, innovative products and services to UK architecture, construction, design and engineering companies, for more than 40 years.
"Sponsorship of Digital Union makes great sense to us," said director of digital commerce, Robin Cordy.
"Construction technology already helps us bring together those in the built environment with manufacturers, so they can work together using intelligent specification software, underpinned by accurate knowledge and information.
"And by working with Digital Union, we hope to open up new opportunities for them within the construction sector and utilise their expertise to ensure we remain at the forefront of digital developments."
NBS has been leading the use of digitally-engineered Building Information Modelling, BIM, in which a digital model of a building is produced to help architects, engineers, surveyors and other users identify the most productive ways in which to utilise the space.
"BIM is a perfect example of the way in which the construction and digital sectors are already working hand in hand," said Robin.
"It creates value from the combined efforts of people, processes and technology – and it's' the sort of initiative we hope to replicate through our sponsorship of Digital Union."
For further information, visit www.theNBS.com.
Pictured: Robin Cordy director of digital commerce at NBS and Eleanor Forsyth networks manager at Digital Union.
Notes to Editors
ABOUT NBS: NBS, specialist provider of technical information for construction industry professionals, offers essential, innovative products and services, highly valued by those working in architecture, construction, design and engineering.
The premier source of construction-related information, NBS has produced the recognised national standard specification system for the UK for more than 40 years. It provides solutions for a broad range of new build, refurbishment, retrofit, landscaping and domestic projects for construction professionals. Delivered within a powerful software package, NBS's specification products continue to develop, leading an evolution of the specification and procurement process for buildings in the UK and overseas. NBS also provides solutions for contract administration and project information management.
NBS Create is a ground-breaking new specification tool that ensures all documentation works together intelligently throughout the entire project timeline, from concept stage to completion and beyond, to save time and money. More than 5,000 offices across the UK subscribe to NBS products, including 96 of the top 100 AJ practices.
The award winning NBS National BIM Library is also the primary source of free-to-use Building Information Modelling (BIM) content in the UK. It contains thousands of generic and proprietary BIM objects authored to the trusted NBS standard, all of which are data rich and are integrated with the world leading NBS specification software.
NBS is part of RIBA Enterprises Ltd, the knowledge management company of the Royal Institute of British Architects (RIBA). RIBA Enterprises employs 250 staff and has offices in London, Newcastle upon Tyne and Newark.
www.theNBS.com

ABOUT Digital Union, powered by Generator: Generator – which oversees the Digital Union membership network and represents the leading creative digital companies in the North East – is the North East of England's leading creative digital development agency.

Over the last six years it has provided an innovative programme of business support to the commercial creative industries, creating 98 new businesses, supporting 322 new companies and 249 existing firms – generating 225 new jobs since 2010 in the process.

The aim of its business support strategy is to grow the creative digital sector and improve on the current figure of £33,613.77 per individual GVA contribution to the UK economy currently achieved in the North East LEP area of Newcastle, Gateshead, Durham and Sunderland – a figure higher than the GVA per person of Greater Manchester.
www.generator.org.uk/digital-union