NBS make the pawfect partnership with Newcastle College
Press Release
August 2016
Newcastle-based NBS has partnered with talented artists from Newcastle College to create a unique design for their very own 3D Snowdog sculpture.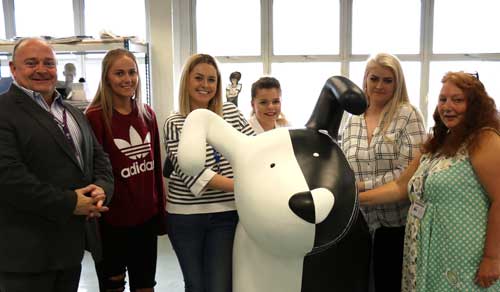 The UK's leading provider of construction information and knowledge management services sponsored a dog on the Great North Snowdogs trail – a large scale art and cultural event coming to the region in September - and has chosen students from the North East College to paint and design it.
Wild in Art has teamed up with local charity St Oswald's Children's Hospice to bring a 60-strong Snowdog trail to the North East, which will be on display throughout the region for a 10-week period during autumn and winter.
Artists from across the UK submitted their designs to Wild in Art and the college was chosen by NBS, who will host their Snowdog outside of their St Nicholas's Street office.
NBS are working with a team of young and mature, print and textile students who created a design for the Snowdog, which has been done as part of their studies. The chosen artwork was selected due to its strong links to the City of Newcastle and reflects the people, buildings and industries that are associated with the city. Sketches which were drawn by students on acetate paper and then projected and hand drawn onto the dog, are now in the midst of being spray painted using local companies' graphics and paint.
Chief Executive of NBS, Richard Waterhouse, who recently visited the students as they were hard at work with their design, said: "We are delighted to partner with Newcastle College on this project. The students have shown amazing imagination, skill and expertise and are a credit to the college. I've been lucky enough to see a sneak preview of the design and I just can't wait to see our Snowdog!"
Rachael Leonard, Instructor at Newcastle College said: "We are honoured to have been chosen by NBS to design and decorate their Snowdog and we feel privileged to be a part of this fantastic initiative. The creativity and energy the students have shown since the start of the project has been amazing and we look forward to seeing the Snowdog placed in such an iconic part of Newcastle, outside the NBS offices, the Old Post Office."
Once the trail has ended, all Snowdogs will be auctioned off to raise funds for St Oswald's Children's Hospice which provides short breaks and respite for children from across the region and support for their families.
For more information, please contact NBS PR Executive Jennifer Scullion on 0191 244 5523 or email Jennifer.Scullion@theNBS.com.
About NBS
NBS, specialist provider of technical information for construction industry professionals, offers essential, innovative products and services, highly valued by those working in architecture, construction, design and engineering.
The premier source of construction-related information, NBS has produced the recognised national standard specification system for the UK for more than 40 years. It provides solutions for a broad range of new build, refurbishment, retrofit, landscaping and domestic projects for construction professionals. Delivered within a powerful software package, NBS's specification products continue to develop, leading an evolution of the specification and procurement process for buildings in the UK and overseas. NBS also provides solutions for contract administration and project information management.
NBS Create is a ground-breaking new specification tool that ensures all documentation works together intelligently throughout the entire project timeline, from concept stage to completion and beyond, to save time and money. More than 5,000 offices across the UK subscribe to NBS products, including 96 of the top 100 AJ practices.
The award winning NBS National BIM Library is also the primary source of free-to-use Building Information Modelling (BIM) content in the UK. It contains thousands of generic and proprietary BIM objects authored to the trusted NBS standard, all of which are data rich and are integrated with the world leading NBS specification software.
NBS is part of RIBA Enterprises Ltd, the knowledge management company of the Royal Institute of British Architects (RIBA). RIBA Enterprises employs 250 staff and has offices in London, Newcastle upon Tyne and Newark.
About St Oswald's Hospice
St Oswald's Hospice provides specialist care for North East adults, young people and children with incurable conditions. The charity needs to raise over £7 million each year through voluntary giving and legacies to continue to provide services to the local community. No charge is made to patients for the services provided; ensuring hospice care is available to all. For more information please visit www.stoswaldsuk.org

Wild in Art is one of the UK's leading creative producers of mass-appeal public art events, which engage residents and tourists alike, through the creation of citywide trails of uniquely painted sculptures. From crashes of rhinos in Sydney and parliaments of owls in Birmingham to BookBenches in London and and Commonwealth Games Clyde mascots in Glasgow, Wild in Art events have animated cities and enthralled people the world over, raising over £6m for charity partners along the way. Wild in Art also provide unique art education resources which engage and inspire young people and enhance learning across the curriculum.
The Snowman™ and The Snowdog: Originally published in 1978, The Snowman, created and illustrated by Raymond Briggs has become one of the world's most popular children's books. Available in 15 languages it has sold in excess of 8.5 million copies worldwide with over 3 million of these sales in the UK published under Puffin editions. Adapted for screen by producer John Coates, the Oscar-nominated animation launched on Channel 4 in its inaugural year in 1982 and has been repeated every Christmas since. The sequel, The Snowman and The Snowdog premiered on Channel 4 on Christmas Eve 2012 and was seen by over 10 million people over the festive period. The Snowman brand enjoys an international audience with global broadcast of the sequel, along with an array of consumer products now available. Snowman Enterprises Limited (SEL) is a Penguin owned company.
Tyne and Wear Metro is Great North Snowdogs presenting partner. DB Regio Tyne and Wear Ltd operate Metro stations and trains on behalf of Nexus, under a seven year concession agreement. For further information please contact Account Manager, Ruth Lawson, or Senior PR Executive, Aranda Rahbarkouhi at Gardiner Richardson on 0191 261 4250 or email arandar@gardiner-richardson.com or ruthl@gardiner-richardson.com
Nexus owns, manages and is modernising the Tyne and Wear Metro in the £350m Metro All Change Modernisation programme. For further details please contact David Punton, Communications Officer, at Nexus on 0191 203 3691 or david.punton@nexus.org.uk.