NBS sponsors New London Awards
Press Release
16 July 2012

On Tuesday NLA honoured the capital's very best architecture, planning and development and announced the winners of the New London Awards at a lunchtime ceremony at Guildhall in the City.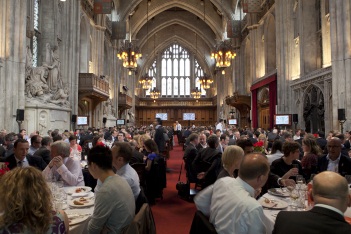 The New London Awards celebrate the best schemes in the capital both built and on the drawing board, temporary and permanent - giving recognition to the impact projects have on their surroundings and their contribution to London as well as to their architectural quality.
NBS and their guests were there to share the celebration and sponsored the Conversation and Retrofit Category. Our account manager Adrian Giles presented John McAslan and Partners, Arup, Network Rail and Vinci the award for the King's Cross station redevelopment and Wallis House, TW8 - Assael Architecture Ltd for Barratt West London.
Other awards included the two entries shared the top slot by being awarded the prestigious "Overall Winner" accolade: the King's Cross Station Redevelopment and the Olympic Legacy Communities Masterplan - both commended for their outstanding contributions to the way London works now and as it shapes up beyond the Olympics.
There was acclaim too for Sellar Property Group's Irvine Sellar, who scooped the New Londoner of the Year award in recognition of his drive and determination to build one of the most talked about London schemes in years - the Shard at London Bridge.
NLA Chairman and chairman of the awards jury Peter Murray, announcing the awards on NLA's seventh birthday, said: "Our jury of overseas experts were impressed by the dramatic new space created by the station concourse as well as the painstaking work on the heritage of the old station.
This balance between old and new typifies the complexity of development in London. The Olympic Legacy Masterplan is the most sophisticated post-Games strategy of any Olympics ever and is the whole raison d'être for holding the event in east London.
A total of 36 prizes were handed out in 12 categories - 18 winners, two special awards and 16 commendations - from across the capital. These were selected from 213 entries that together represent some £10bn of development in the capital.