NBS survey reveals a green and European future for specifications in the UK
Press Release
24 October 2011

An industry-wide survey conducted by NBS has revealed that construction professionals in the UK believe that environmental performance requirements and a move to European standardisation are set to have the biggest impact on the future of specifications.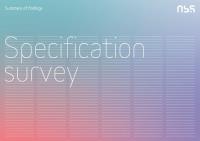 The survey, which had 500 respondents from a range of professions, companies and organisation sizes working in the construction sector, found that:
Two thirds (66%) of construction professionals believe that future specifications will have to conform to European specification standards - despite no known plans for this to happen
The integration of 'green performance' is paramount, with 87% of those surveyed agreeing that environmental performance requirements must be included in specifications
Specifications will support the Government's efforts to drive efficiencies and collaboration in construction, with 60% predicting future specifications will live as long as the buildings they serve – i.e. specifications will be a mixture of types, including outline, performance and detailed
Specifications will remain the preserve of practices, with only 20% per cent of construction professionals surveyed agreeing that more specifications will be produced by contractors in the future.
Not surprisingly, in recognition of the increased adoption of Building Information Modelling (BIM), almost all of those surveyed (90%) agreed that future specifications will be distributed digitally.
However, there was confusion amongst industry professionals about how the information would be integrated, with 47% wrongly believing that specifications will be automatically generated by a CAD tool or other geometry based modelling tool.
What was clear was the importance of specifications, with 73% agreeing they needed to rely on more than visual information. Commenting on the research, Adrian Malleson, Research and Analysis Manager at NBS said:
"The research provides a useful insight into the specification process and its potential to facilitate greater levels of collaboration, flexibility and efficiency within the construction industry. We can clearly see that specifications will be critical at all stages of a building's life, not just the design stage.
As demonstrated by the last industry survey conducted by NBS, there is still a significant degree of confusion around BIM though, despite its high profile. People realise that specifications will continue to be an integral part of BIM but need educating on how this will happen in practice."
Download the NBS Specification Survey Summary of Findings 2011 (.pdf, 0.8Mb)
– Ends –
For further information please contact:
Katie Parker-Muir
T: + 44 (0)20 7392 1989
E: Katie@ing-media.com
Notes to Editors
NBS
NBS, specialist providers of technical information for construction industry professionals, offers essential, innovative products and services, highly valued by those working in architecture, construction, design and engineering.
The premier source of construction-related information, NBS has produced the recognised national standard specification system for the UK for over 35 years. It provides solutions for a broad range of new build, refurbishment, retrofit, landscaping and domestic projects for architects, services engineers, QSs and others. Delivered within a powerful software package, NBS's specification products continue to develop, leading an evolution of the specification and procurement process for buildings in the UK and overseas. NBS also provides solutions for contract administration and project information management.
More than 5,000 offices across the UK subscribe to NBS products, including 96 of the top 100 AJ practices. NBS produces a range of information delivery products, including The Construction Information Service, a joint venture with IHS. Since 2005, NBS has published the Building Regulations' Approved Documents for England and Wales.
The NBS Learning Channels provide specialist learning services for individuals and organisations working in the architecture, design and construction industry, offering unique high quality video content which is available across four distinct channels: The Architects' Channel, The Civil Engineers' Channel, The Planning Channel and The Surveyors' Channel.
NBS is part of RIBA Enterprises Ltd, the commercial arm of the Royal Institute of British Architects (RIBA). RIBA Enterprises employs 250 staff and has offices in London, Newcastle upon Tyne and Newark.