NBS welcomes new talent with graduate and student placement roles
Press Release
October 2016
Newcastle-based NBS welcomed a recent graduate and two North East university placement students last month.
The new additions join the diverse community of former student placement and graduates who are now permanent members of the 180-strong NBS team.
Grady Finley and Jonny Hocke join the company from Northumbria University, where they are studying Geography and Geography with Environmental Management respectively.
Both have been given year-long placements within the market research team and are based at the newly refurbished Old Post Office, at St Nicholas Street.
Josh Dawson, originally from Newcastle, has joined the company from York St John's University where he studied Computer Science, as a graduate software developer.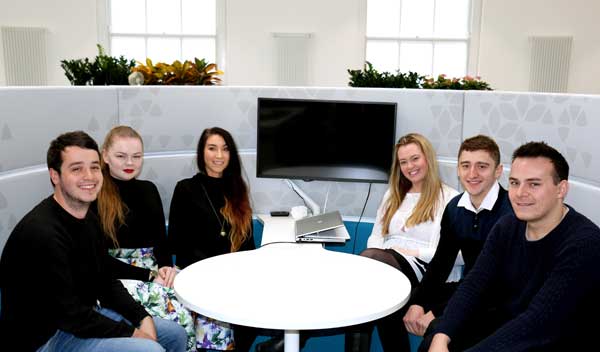 Josh Dawson, Kirsty Hudson, Claire McGuinness, Jane Hibbert, Jonny Hocke and Grady Finley.


NBS Chief Executive, Richard Waterhouse, said: "We always want to attract the next generation of talent to our business; over the last six years we have recruited 54 roles from graduate and student placements, and we don't intend to stop there.
"If you're willing to work hard and you want to shape a successful career for yourself, NBS will give you that opportunity and help you along the way."
Jane Hibbert studied Building Design Management at Northumbria University and came to NBS on a year's placement during her studies.
Now heading into her seventh year of employment with the company as a senior BIM author, Jane reflects on how those at NBS have helped shape her career: "Coming into the company as a young professional, the experience was invaluable in helping me progress and complete my final year of studying.
"Since then the support I have received in helping me to shape my early career has been fantastic which is testament to the fact that I'm now a senior member of my team; who are a set of talented and amazing people!"
Claire and Kirsty joined the company in 2013 as graduate interface designers, both being promoted in 2015 to permanent members of the team.
NBS is the UK's leading provider of construction information and knowledge management services; developing a range of software based specification products, supported by the latest technical knowledge from its in-house team of industry experts for architecture, construction, design and engineering services.
For more information about graduate and student placement roles, please www.thenbs.com/about-nbs/careers
For more information, please contact NBS PR Executive Jennifer Scullion on 0191 244 5523 or email Jennifer.Scullion@theNBS.com.
Notes to Editors
ABOUT NBS: NBS, specialist provider of technical information for construction industry professionals, offers essential, innovative products and services, highly valued by those working in architecture, construction, design and engineering.
The premier source of construction-related information, NBS has produced the recognised national standard specification system for the UK for more than 40 years. It provides solutions for a broad range of new build, refurbishment, retrofit, landscaping and domestic projects for construction professionals. Delivered within a powerful software package, NBS's specification products continue to develop, leading an evolution of the specification and procurement process for buildings in the UK and overseas. NBS also provides solutions for contract administration and project information management.
NBS Create is a ground-breaking new specification tool that ensures all documentation works together intelligently throughout the entire project timeline, from concept stage to completion and beyond, to save time and money. More than 5,000 offices across the UK subscribe to NBS products, including 96 of the top 100 AJ practices.
The award winning NBS National BIM Library is also the primary source of free-to-use Building Information Modelling (BIM) content in the UK. It contains thousands of generic and proprietary BIM objects authored to the trusted NBS standard, all of which are data rich and are integrated with the world leading NBS specification software.
NBS is part of RIBA Enterprises Ltd, the knowledge management company of the Royal Institute of British Architects (RIBA). RIBA Enterprises employs 250 staff and has offices in London, Newcastle upon Tyne and Newark.
www.theNBS.com