Newcastle business, NBS, announces partnership with international art gallery, BALTIC
Press Release
20 November 2015
Newcastle-based NBS has announced a new partnership with BALTIC Centre for Contemporary Art, beginning with sponsorship of BALTIC's newly opened exhibition, BILL MURRAY: A Story of Distance, Size and Sincerity.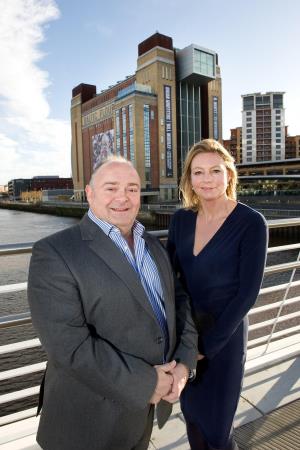 The partnership between BALTIC and NBS, which is owned by the Royal Institute of British Architects (RIBA) and provides technical information to construction industry professionals, will also see the launch of a new Art & Architecture business networking event.
Rebecca Surtees-Brown, Corporate Relations Manager at BALTIC Centre for Contemporary Art, said:
"Like BALTIC, NBS promotes innovation and creativity and we look forward to working together. NBS is a high profile company based in the North East and we are happy to have found a new way to showcase the opportunity for local businesses to engage in cultural projects with a regional, national and international impact."
Commenting on the sponsorship, Richard Waterhouse, Chief Executive at NBS and RIBA Enterprises, said:
"NBS is delighted to be involved with BALTIC as part of its commitment to playing a key role in the economy and community of Newcastle Gateshead and the wider north-east region. We have ambitious plans for growth both in the UK and overseas, but Newcastle will remain our home as part of the digital construction hub that is developing rapidly in this area. We look forward to working with our partners at BALTIC with whom we share much common ground in our interests in art and architecture."
The Art & Architecture event will be held at BALTIC in Spring 2016, and will bring together architecture and construction professionals and innovators including key speakers such as RIBA Enterprises Chief Executive Richard Waterhouse.
Based in the Old Post Office, NBS is one of the fastest growing businesses in the city centre and currently employs nearly 200 people at its Newcastle office.
Part of the knowledge arm of the Royal Institute of British Architects, NBS is at the forefront of the digital revolution that is taking place within the construction industry. For 40 years, it has provided technical information, innovative products and services to UK companies working in architecture, construction, design and engineering.
The three-tier partnership with BALTIC also sees NBS become a BALTIC B.Partner as part of the gallery's corporate membership programme which gives private access to the galleries for events, entertaining and private viewings.
The exhibition BILL MURRAY: A Story of Distance, Size and Sincerity opens at BALTIC on 20 November and sees London-based artist Brian Griffiths take reference points from the ubiquitous Hollywood actor and cultural icon Bill Murray. The ambitious commission for BALTIC's Level 4 gallery is centred on a series of different styled and period buildings from a lavish LA beach house to an historic Scottish mansion. These originally constructed buildings are grounded on tables throughout BALTIC's largest gallery space. Bill Murray, architecture and everyday objects are forced together in set pieces that joyfully confuse overview and point of view, scale and size, closeness and distance.

Rebecca Surtees-Brown added:

"We're delighted to be supported by NBS for this new exhibition. Since opening in 2002, BALTIC has hosted a great number of corporate partners from international brands to regional, home-grown organisations and we're thrilled NBS joins this family. This exhibition, which includes the artist Brian Griffiths constructing a series of architecturally diverse buildings, is a considered and dynamic match for partnering with NBS.
About NBS
NBS, specialist providers of technical information for construction industry professionals, offers essential, innovative products and services, highly valued by those working in architecture, construction, design and engineering.

The premier source of construction-related information, NBS has produced the recognised national standard specification system for the UK for over 40years. It provides solutions for a broad range of new build, refurbishment, retrofit, landscaping and domestic projects for construction professionals. Delivered within a powerful software package, NBS's specification products continue to develop, leading an evolution of the specification and procurement process for buildings in the UK and overseas. NBS also provides solutions for contract administration and project information management.

The award winning NBS National BIM Library is also the primary source of free-to-use Building Information Modelling (BIM) content in the UK. It contains thousands of generic and proprietary BIM objects authored to the trusted NBS standard, all of which are data rich and are integrated with the world leading NBS specification software.

NBS produces a range of information delivery products, including The Construction Information Service, a joint venture with IHS. Since 2005, NBS has published the Building Regulations' Approved Documents for England and Wales. NBS TV provides specialist learning services for individuals and organisations working in the architecture, design and construction industry, offering unique high quality video content.

NBS Create is a ground-breaking new specification tool that ensures all documentation works together intelligently throughout the entire project timeline, from concept stage to completion and beyond, to save time and money. More than 5,000 offices across the UK subscribe to NBS products, including 96 of the top 100 AJ practices. NBS is part of RIBA Enterprises Ltd, the commercial arm of the Royal Institute of British Architects (RIBA). RIBA Enterprises employs 250 staff and has offices in London, Newcastle upon Tyne and Newark.
About BALTIC
BALTIC is a major international centre for contemporary art situated on the south bank of the River Tyne in Gateshead, England and has welcomed over 6 million visitors since opening to the public in July 2002. BALTIC presents a distinctive and ambitious programme of exhibitions and events, and is a world leader in the presentation and commissioning of contemporary visual art. Housed in a landmark ex-industrial building, BALTIC consists of 2,600 square metres of art space, making it the UK's largest dedicated contemporary art institution.
BALTIC has gained an international reputation for its commissioning of cutting-edge temporary exhibitions. It has presented the work of over 300 artists from 52 countries in 183 exhibitions to date ranging from acclaimed figures such as AnishKapoor, Steve McQueen, Antony Gormley, Susan Hiller, Yoko Ono, Ed and Nancy Kienholz, Daniel Buren, Jason Rhoades, Fiona Tan; through to emerging artists.