Old Post Office gets stamp of approval
Press Release
April 2016

The president of the Royal Institute of British Architects has praised the team behind the redevelopment of one of Newcastle's most important historic buildings.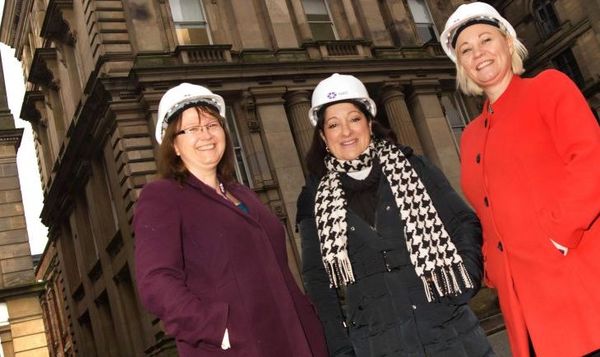 Jane Duncan (centre) outside the Old Post Office with RIBA Enterprises Finance Director
Irena Peel (left) and Executive Director Helen Whitfield (right).

The Old Post Office, St Nicholas Street, opposite the Cathedral, is currently undergoing a £5.8m refurbishment, overseen by its owner, NBS and Newcastle architect practice JDDK.
The project will create a state-of-the-art building with office space for NBS, meeting rooms and extensive staff facilities.
In tribute to the site's heritage as a community building, there will also be gallery and exhibition space, which will be open to the public, along with a lecture theatre and events spaces.
And, on a recent visit to the Grade II-listed building, Jane Duncan, President of the Royal Institute of British Architects (RIBA), hailed the project, "a wonderful addition to the professional community and the wider community who are interested in architecture."
Ms Duncan, director of award-winning Buckinghamshire-based Jane Duncan Architects, was given a guided tour of the site by NBS facilities manager, Carol Punton.
She also met NBS staff, along with construction workers led by Andy Laidler, from Newcastle-based Surgo, which is carrying out the internal refurbishment of the building.
"It is always difficult to create a state-of-the-art space while maintaining the character of the building. NBS and their architects, JDDK, have not only achieved this but have also worked with partners from the North East to support regional contact," she said.
"This will create spaces that people are delighted to work in – big open light spaces, which will inspire creativity – and I know the exhibition space will be used extensively.
"I would like to commend everyone for their vision in the design of this building and I am looking forward to visiting it again when it is complete."
NBS is the UK's leading provider of construction information and knowledge management services and chief executive, Richard Waterhouse, said: "When The Old Post Office was built, more than 150 years ago, it was to the most contemporary design and layout – and we are delighted to be continuing this tradition.
"It was also designed to be used and enjoyed by the public and, when our work is finished, we very much hope it will be again."
NBS has provided technical information, innovative products and services to UK architecture, construction, design and engineering companies, for more than 40 years and works with 98 per cent of the country's architects along with construction and manufacturing industry professionals.
For further information about NBS, visit www.theNBS.com.