Maggie's Newcastle provides social, emotional and practical support to people with cancer, their families and friends in a calm environment surrounded by nature.
The centre, which sits in the grounds of the Freeman Hospital and opened in May 2013, is designed to help people feel more in control and less isolated when faced with a cancer diagnosis. Around 100 people a day visit Maggie's and access a range of different services including cancer support specialists, benefits advisors, counselling and a variety of different drop-in sessions.
The team need to raise £590,000 to fund their unique programme with no government funding to support them. This year, the Centre needs to raise an additional £1 million to fund a new extension which is set to increase the building capacity by 30%.
Almost 100,000 visits have been made to Maggie's since it opened and we'd like to help them see even more people in the coming five years. Maggie's support has never been more vital to ensure that people can life their life to the full - no matter what their situation.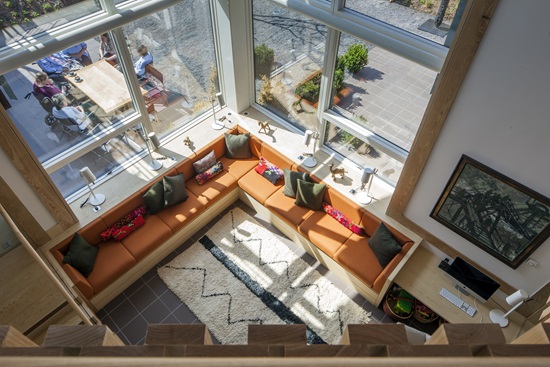 How you can help
Throughout the 80 days of The Great Exhibition of the North, NBS is supporting Maggie's Newcastle in their bid to raise enough funds to go ahead with their new extension.
When you enter the exhibition space you will spot our digital donation station to your right - this allows you to make a contactless payment of up to £30. Alternatively, we have set up a JustGiving page for you to donate any amount you wish.
The Future Buildings exhibition is open to the public from Friday 22nd June until Sunday 9th September, 10am to 6pm every day.
More information
Read our case study on Maggie's Newcastle as part of our North East Showcase Wall
Visit the Maggie's website