The latest update to the NBS BIM Toolkit represents an ongoing commitment to maintain and develop this essential piece of the BIM Level 2 jigsaw beyond the April 2016 government funding end date.
The BIM Toolkit project formed part of the government's programme to deliver BIM Level 2 via a set of world-class standards and tools and the team at NBS continue to work with public and private sector representatives from across the industry to ensure this tool continues to provide the support and information that clients and project teams require.
Helping to define who is doing what and when on BIM Level 2 (or any) project, the Toolkit can be used at an early stage of a project to support the preparation of Employer's Information Requirements, capturing the evolving information requirements and responsibilities within a digital plan of work as the project progresses.
What's new in the Toolkit?
The latest update (the seventh since funding ended) delivers example case study content from others using the BIM Toolkit, enhancements to quick-start templates and improvements to how deliverables are defined. These developments are all designed to support the industry in the more efficient production of digital plans of work and Employer's Information Requirements (EIRs).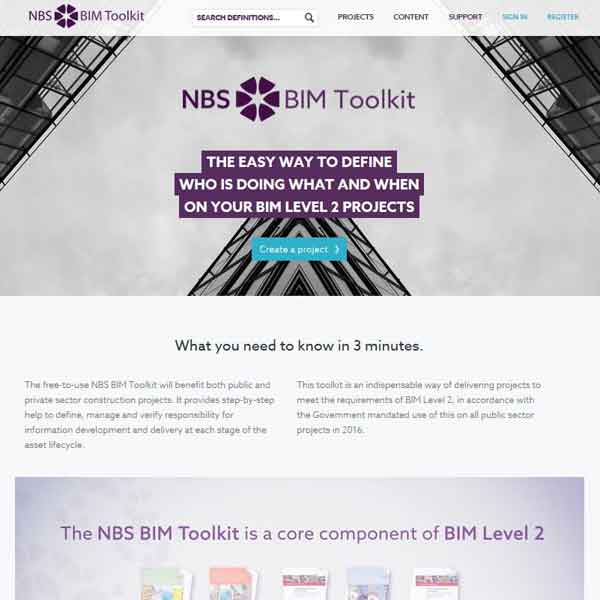 Templates are provided to help users get off to a quick start – suggesting tasks relevant to specific project stages across a range of project types. Feedback indicated that some pre-suggested deliverables (a service that is carried out by a particular role in which specific data is delivered that represents a physical object in the asset) would be a valuable time-saver for project teams. Such suggestions would also mean that teams weren't faced with a blank sheet in which to start adding deliverables from the 5700+ available in the library.

Users can select a template plan of work based on the RIBA Plan of Work with example deliverables for stage 3 of a project. They can also select a case study example for a secondary school that contains relevant tasks and deliverables that are specific to that project type.
Users also indicated that they would value more flexibility to add broader deliverables at an early stage (or at handover stage) where there is less certainty or detail about the systems or products. And to then have an easy means of developing these into more specific items at a later stage. New functionality makes it easy for the team to see on–screen where more detailed decisions are yet to be made. Pre-suggested lists of relevant deliverables make the process of refining these information requirements more accurate and efficient.
Manchester City Council have been involved in this recent round of development. As Alistair Burns, Design Manager with the Capital Programmes and Property Team explains; "We wanted to have a template in place that captured the knowledge of the department and the years of experience and lessons learnt from previous projects. This would put us in a strong position to have clarity on client information requirements on projects. In developing well-structured digital information the team at Manchester believe better project outcomes would be guaranteed and, in using the Digital Plan of Work across all stages, data flow would be significantly improved."
The BIM consultancy PCSG are supporting Manchester City Council on this initiative. Associate Director, Mark Stodgell commented; "A digital plan of work is a key requirement for BIM Level 2 projects. The NBS BIM Toolkit allows information requirements to be clearly assigned to a project stage and clarity is then provided on which role is responsible for delivering this information."

Find out how Manchester City Council have used the Toolkit

Help shape the development of the Toolkit
NBS hope to work with others in industry to extend the templates and reference materials across other project types including Offices, Retail, Housing and Landscape. Early discussions are underway and users will see evidence of this activity in future BIM Toolkit releases.
Anyone interested in being involved with future BIM Toolkit developments can contact Product Manager Sarah Grey by email at sarah.grey@theNBS.com.