NBS is on course to deliver a BIM Toolkit ahead of the 2016 deadline for the use of Level 2 BIM on public sector projects. Here, we round-up what has happened so far and take a look at what you can expect when the service launches.
What is the NBS BIM Toolkit?
The contract to develop a BIM Toolkit for BIM, on behalf of Innovate UK, was awarded to NBS in September last year ahead of the 2016 deadline for use of collaborative 3D BIM (including electronic project and asset information and documentation) on public sector projects.
The Toolkit is a web-based resource tailor-made to guide users through the construction process. At the heart of the project is a standardised and digitally-enabled classification system coupled with object level detail and information and a Digital Plan of Work. Combined these have the power to transform the delivery of construction projects for all disciplines and across all scales of projects; from large infrastructure schemes to small, domestic scale works.
What's happened so far?
Over the last few months, the project team, have consulted with architects, clients, contractors, engineers, manufacturers and facility managers to help ensure that the content and software being developed meets the industry need.
A roundtable event at NBS Live back in November explored a range of issues around existing ways of working on a wide range of construction projects. On the whole participants felt that while current processes allow projects to get built there are a great many holes in existing process and procedure – and it's exactly these gaps that the Toolkit is designed to fill.
All these discussions make the team certain that the Toolkit has the very real potential to transform the procurement of buildings and infrastructure by defining and testing the BIM data required at each stage of the project. The team are also highly optimistic that the tool will be used in the private sector as well as public because, quite simply, it represents a much smarter way of working.
What exactly will the BIM Toolkit deliver?
At the heart of the Toolkit will be a new pan-industry classification system. This will build on the work NBS has done in recent years under commission from the Construction Information Committee (CPIC).
Based on an extended version of Uniclass, the system will deliver a unified structure for mapping and guidance and will allow objects within a project to be given multiple classifications where appropriate.
Thousands of level of definition guidance pages will be available for infrastructure and building projects.
The Toolkit will also include more than 5,000 templates setting out both Levels of Detail (LOD) and Levels of Information (LOI) for construction objects.
These templates will include spaces, systems and products for use in building and infrastructure projects. These will be available, for free, from the Toolkit website and can also be downloaded in IFC and Microsoft Excel format.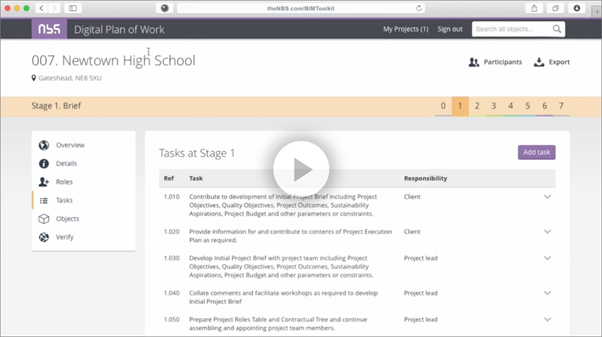 Video: A free-to-use Digital Plan of Work that runs through the web browser is an integral part of the BIM Toolkit.
The Toolkit will also feature a Digital Plan of Work, which will enable the project leader to clearly define the team, responsibilities and an information delivery plan for each stage of a project - who, what and when - in terms of documents, geometry and property-sets.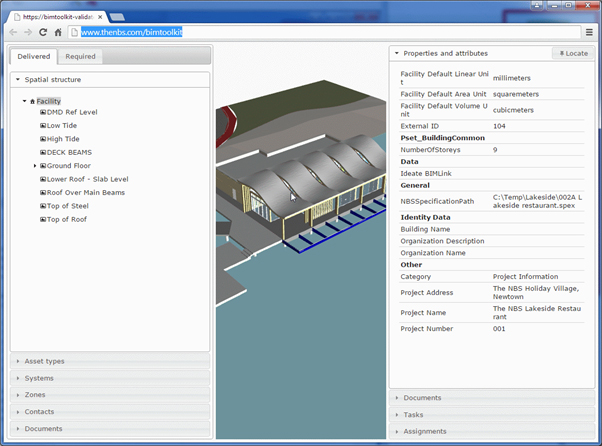 buildingSMART IFC viewing and verification technologies are available within the web browser.
Cumulatively, these resources will form the 'construction language' that all project teams can use to define their information exchanges for a particular stage of a project.
What benefits will the BIM Toolkit deliver?
Great care is being taken to make the Toolkit easy to use, recognising that organisations will be at varying stages of BIM adoption. Ensuring everyone can access the resource, in line with their individual requirements, will be crucial to spurring the widespread adoption of BIM.
It is hoped that the Toolkit will not only bring synergy to construction projects through the use of BIM, but also realise the benefits of allowing the entire project team to work collaboratively and to the same parameters for the first time. This will represent a step change for the construction industry and will prove critical to the successful implementation of BIM enabled projects in the future.
What happens next?
In the coming months the project team are planning a range of events, webinars and seminars as a way of engaging with people across a wide range of disciplines and feeding into the development process. More details on these will be published shortly.
You can stay up to date with the wider project by visiting the project webpages at theNBS.com/bimtoolkit or by following @TheNBS

on Twitter (and our #bimtoolkit

hashtag), and through our Digital Plan of Work Discussion Group

on LinkedIn.