The NBS BIM Tookit moved out of beta status this week, marking its true readiness for project use, and serving as yet another sign of Level 2 BIM's transition from a Government initiative to an industry standard.
The award-winning, free-to-use, tool is the easy way to define who is doing what and when on your Level 2 BIM projects and combines a standardized and digitally-enabled classification system (Uniclass 2015) with a level-of-definition reference library and digital plan of work tool.
The Toolkit enables clients and managers to clearly define information requirements and design and construction teams to assemble a team with clearly defined roles and responsibilities to work collaboratively on construction projects.
Manufacturers also benefit by being able to supply digital information at the point of specification – influencing design decisions and the choice of construction products used on the thousands of public and private sector projects expected to be managed via the Toolkit in the years to come.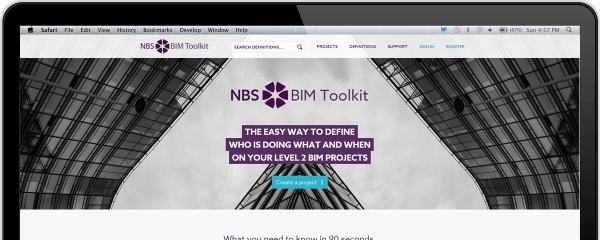 The journey so far
The Toolkit was developed in response to an Innovate UK brief and in line with industry feedback.
Over the last year, NBS and its project partners at BIM Academy, BDP, Laing O'Rourke, Microsoft and Newcastle University have consulted widely with architects, clients, contractors, engineers, manufacturers and facility managers to make sure the content and software being developed meets their needs.
A steering panel consisting of representatives from institutions APM, BIFM, CIOB, CIBSE, ICE, IStructE, RIBA and RICS has also been key to ensuring the needs of the construction industry were met.
As part of the project NBS has published over 5,700 templates

offering guidance for Levels of Detail (LOD) and Levels of Information (LOI) for a wide range of construction objects spanning architecture, civil and structural engineering, building services and landscape design. These templates are freely available online, via an API or in Microsoft Excel format, and are clearly aligned to project stages, ensuring the required information is clearly related to real-world requirements across the project lifecycle.
The Toolkit also allows users to define Employer's Information Requirements (EIRs) at every project stage and these can then be cross referenced with a client's original 'plain language' questions, making the delivery of a task information delivery plan (in line with PAS 1192:2) easy.
A range of collaborative features have also been developed allowing members of a project team to view and comment on tasks they have been assigned all via the Toolkit interface.
During the six-month beta period, the NBS BIM Toolkit has generated enormous interest from construction professionals in the UK and abroad – with over 19,000 visitors from 141 different countries visiting the site and over 3,000 projects created. All in all, an encouraging sign that the Toolkit is well placed to embed Level 2 BIM across the procurement process and become an invaluable part of both public and private sector construction projects.
As Mark Bew MBE, Chairman of the UK BIM Task Group explains:
"The BIM Toolkit is the final piece of the jigsaw to complete the Government's BIM Task Group Level 2 programme. It makes available the tools needed to complete the Level 2 BIM package and as such is an important part of the world leading programme of cross sector productivity improvement. Both clients and supply chain have long called for collaboration and co-working and this project is an excellent example of Government innovation funding providing a platform for the entire industry to share common process and knowledge."
The road ahead
Having responded to the Innovate UK brief in making a Verification prototype available to the market, user-research into this part of the NBS BIM Toolkit offering continues in order to fully explore opportunities for developing this prototype into an industry tool.
As the NBS BIM Toolkit enters the next phase of its development, the NBS team have been keen to support

users of the site – new 'how to' videos and a series of webinars are designed to show just how the Toolkit can benefit clients, manufacturers and designers alike.
Moreover, Uniclass 2015, delivered as part of the project, is a dynamic classification system and will continue to be added to beyond the tables that have been published thus far. Users are encouraged to use the feedback mechanisms in place within the Uniclass area

to suggest new ideas and request new codes.
NBS are also developing a library of case studies for featuring in the support area of Toolkit – if you would like your NBS BIM Toolkit project to feature, please contact Sarah Grey, BIM Toolkit Product Manager: sarah.grey@theNBS.com