Last week saw the launch of our Periodic Table of BIM – an at-a-glance guide to the steps you need to take to ensure a successful BIM implementation.
Taking its inspiration from the periodic table of elements, our table presents all the main elements of BIM in an easy-to-follow, visual reference – ideal for printing or sharing and we've been pleased by your reaction on Twitter…
"Excellent visual aid by @TheNBS here. #straightonthecoolwall https://t.co/BRkWvt2eOe"
— Mark Turner (@markturnerBIM) March 4, 2016
"WOW! Periodic Table of BIM https://t.co/d9X9a9ro6Y I am going to talk about that in the next lesson!"
— Davide Madeddu (@davidemadeddu) March 3, 2016
"Very clever NBS! Periodic Table of BIM https://t.co/SBJ1GHp8aB"
— Raymond K. Quirke (@QuirkeArchTect) March 3, 2016
"This is a great graphic showing just about everything a BIM Integration entails. Thanks NBS (https://t.co/Sn43VcqgrB…https://t.co/1ISOVtsuEu"
— Alice Santman (@AliceSantman) March 3, 2016
Across a series of articles, we'll be looking at the table – grouping by grouping – in much more detail with a series of articles investigating key terms and signposting related resources.
This week we explore BIM Strategy.
Other articles in this series
STRATEGY
Define your BIM STRATEGY and understand what your company is trying to achieve with BIM.
Consider how and when you will implement the strategy – and the supporting foundations, processes, technology, tools and people that you require.
BIM Strategy (Bs)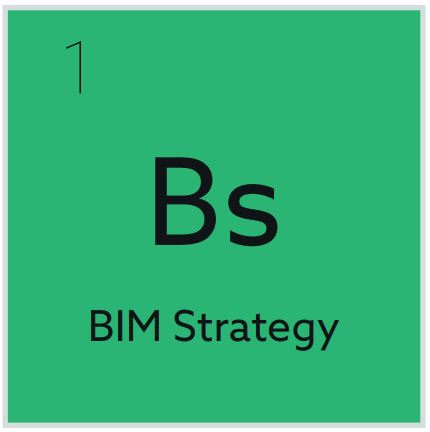 A clearly defined strategy is at the heart of a successful BIM implementation – hence its inclusion at the head of the Periodic Table of BIM in a STRATEGY grouping all of its own.
Why so important? Well, it's only when you're clear about what you're hoping to achieve (beyond the somewhat simplistic notion of adopting and implementing BIM) that you can start to delve more deeply into what success looks like and what will be needed to make that success happen.
Taking the UK Government as a high-level example, in adopting BIM, it had some very clear measures of success in mind – significant cost savings, improved carbon performance and increased value to the project. These measures would all be achieved through more efficient access to shared information about built assets, something that lies at the heart of BIM.
At a company level you may have won over some key decision makers already but need to crystallise thinking to unlock the investment by way of a formal business case for BIM. What that investment looks like will depend on what your company wants to achieve from its BIM implementation.
You may be looking to reduce your reliance on paper files. You may be looking to improve decision making processes through better visualization of deliverables and the ability to query decisions to clearly determine the impact of a range of scenarios. You may be looking to improve your budgeting and pricing and better co-ordinated designs would help achieve this. All of the above may well be in your sights but your BIM strategy will be unique and distinct as it should reflect your company's own individual ambitions and starting point.
A business audit to understand existing BIM maturity is likely a good place to start.
What demands are your existing clients and the resulting work putting on your business? Do you deal with mainly public or private sector clients? What kind of clients and projects do you expect to be dealing with in future and what will their requirements be? What areas of your business could be improved by adopting a BIM approach?
Ultimately, does it make sense to adopt a greater level of BIM maturity (being mindful that failing to adopt BIM could be hurting your practice)? If so, what does that involve?
Some pre-planning can help answer that question. Areas worth focussing on include:
How you can get the backing of leadership in your organisation – and support at grassroots levels too – and ensure everyone has realistic expectations.
Gaining a clear understanding of current archiving and document control protocols and procedures.
Identifying a clear owner for your BIM strategy as a live document and where it will sit within your business hierarchy.
Technology. Though as much about people and process as about technology, understanding existing systems and getting new ones developed and deployed will need support and resource from the IT team. Don't get too hung up on individual tools. Think about deliverables.
Training. Who will need to know what and when and how much do people know already?Remember that everyone's needs will be slightly different – some people may have experience already, others none at all. Can this be resourced in-house or will external resource be needed?
The impact of cultural change. BIM should be embedded within current workflows, not as a separate entity. Clear communication on the why will therefore be essential. So too will understanding the impact so as not to throw out the best bits of current process and procedure.
With a clearer view of the 'status quo' what are the key drivers or ambitions for BIM implementation? What will success look like?
What return on investment can you expect from BIM implementation? Improving efficiency, reducing alterations, delivering more accurate costs and timescales are all likely to be achievable but be careful not to over-sell the benefits! Keep things simple and ensure you link up with existing strategies rather than replace them all together.
What objectives will your BIM implementation have and to what purpose (what will you deliver for clients, contractors and users)?
How long will it take to bring your plan to fruition? Will you opt for a "big bang" or a smaller number of deliverables or trials?
Is your plan affordable (given impact there will there be on existing people, process and technology?)
With a solid BIM business case in hand, it becomes possible to evaluate the tools that can help you deliver and how best to implement the software and technology.
This in turn leads towards your BIM Execution Plan (Bep), which acts as a 'digital method statement' setting out the supply chain's agreed approach to BIM implementation on a project. We'll look at this in more detail when we explore the PROCESS grouping of the periodic table.
Continue your Periodic Table of BIM journey...