One thing that makes buildings more difficult to build than say aeroplanes or cars is that traditionally the different members of the construction team work in silos. So, within a design team you may have an architect, service engineer, cost consultant and structural engineer all focusing on their own work which leads to coordination problems. At a higher level, the design team and construction team may also have communication challenges and the risk of an adversarial and not a collaborative working process. Even looking at the basics, does an architect coordinate the information on the drawings and specification as well as is possible?
Many believe that the problems of silo working and badly coordinated documentation will be greatly reduced through the adoption of Building Information Modelling (BIM). BIM is all about structured information that is coordinated. This is information that flows through the construction process from brief through to facility management. For this to work successfully, interoperability is critical. However, what are the different levels of interoperability?
Interoperability between software from the same vendor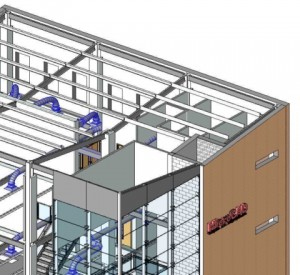 The first (and easiest) method of interoperability is that between software from the same vendor. In everyday life, this may be embedding a Microsoft Excel spread sheet into a Microsoft Word document or receiving an email that contains a post code using Gmail and opening the exact location using Google Maps.
Within construction, a good example of this is a service engineer, architect and structural engineer all working on separate 3D models in their versions of Autodesk Revit. These separate models may then be aligned to show a combined design model and then passed to the construction team to plan the work in Autodesk Navisworks. This gives great benefits in terms of coordinating and planning the work and avoiding clashes between structure and services once the construction commences.
Interoperability through open data standards
The final method of interoperability considered in this article is where information is to be displayed or transferred between software applications through open data standards. Within computing this is very common and normally taken for granted. An email, for example, can be authored using the Apple iPhone, then sent to a three different contacts that are using three different software applications, for example, Microsoft Outlook, Google Gmail and the Yahoo Mail. This is only possible through the data standards RFC 5322 and Simple Mail Transfer Protocol (SMTP). Users do not have to worry about these – in fact I'd never heard of RFC 5322 until researching this article – but software vendors know that if they follow the rules then collaboration will work in terms of sending and receiving emails.
Within construction, there are two well established data standards for the transfer of data: Green Building XML (gbXML) and Industry Foundation Classes (IFC). One example of the use of IFC to support a truly impressive workflow was demonstrated recently as part of the Integrated Carbon Information Model (iCIM) project at the UK ecobuild 2012. This was a Technology Strategy Board funded project involving AEC3, RIBA Enterprises, BIM Academy, Autodesk, BSRIA, BCIS, The University of Bath and Faithful & Gould.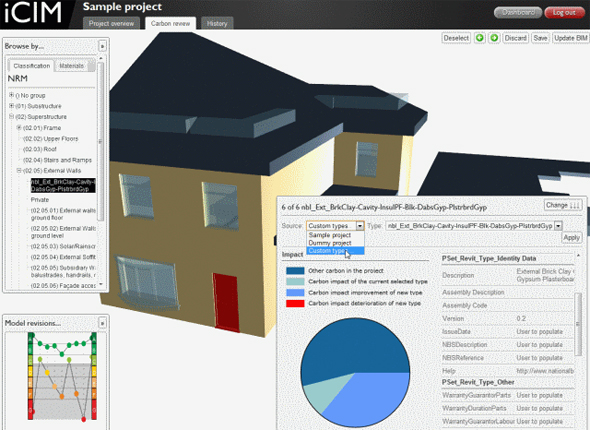 Within this process, the user may submit a concept design from Autodesk Revit in IFC format to the iCIM website. Once submitted to the website the user can click through the objects in the BIM and configure these based on NBS technical guidance and embodied carbon and financial cost data. These building objects can be constructed one material at a time, or National BIM Library pre-configured constructions may be used. Throughout, the user is presented with simple graphical displays of environmental impact at different levels of the building (whole building, element or material) and these estimated costs can be reviewed against the initial budget costs for the project. The final part of the journey is then 'round-tripping' the configured type objects back into the Revit model and automatically generating a coordinated outline specification in NBS Create.
This is true use of IFC, an open data standard, to allow information and software from multiple sources to work together to improve the construction workflow. By using open standards, this process has the potential to work equally well starting the journey off in ArchiCAD, Bentley, Tekla or Vectorworks. Equally, if the user would prefer to use their own source of carbon or cost data or even standard BIM components, then these could be plugged in as an alternative.
The adoption of open data standards in construction takes me back to the World Wide Web hitting the mainstream 15-20 years ago. For the first few years, everyone was just amazed by what was possible through this new technology. I remember the excitement of creating my first website – similar to the buzz around BIM today. Then towards the end of the 1990s, as the web matured, users around the world started strongly voicing their opinion that it was not acceptable that they had to craft their website multiple times so it worked correctly in Microsoft Internet Explorer, Opera and Netscape Navigator. Users demanded robust open standards and nowadays we have Google Chrome, Apple Safari, Mozilla Firefox and Microsoft Internet Explorer all putting their open standard credentials first and foremost when promoting their new releases. This is great news for those that write websites due to a common set of rules and also those that use websites due to increased competition and ultimately a better software product.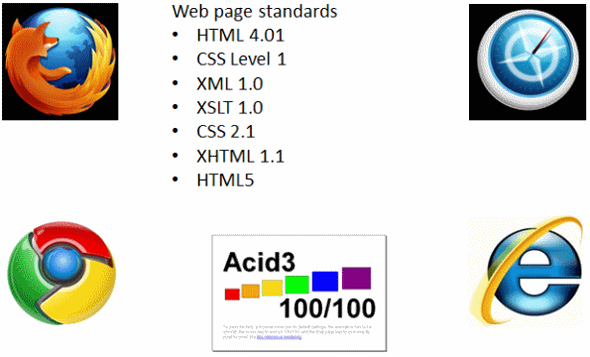 I strongly believe that there it is no coincidence that we are now hearing about initiatives from buildingSMART, Graphisoft and Tekla around the OpenBIM movement and when we read about the Autodesk Revit 2013 feature set there is a big long list of enhancements to the IFC import and export functionality. The NBS National BIM Report 2012 showed that the percentage of UK construction professionals using BIM on at least one project had jumped from around 10% to over 30% in 12 months. The situation where the construction team cannot at least create record models of their data using an open format will become unacceptable to most very quickly now.
Interoperability and the UK Government Construction Strategy
In May 2011 the UK Government published its Construction Strategy. Interoperability through open data standards was at its heart.
In terms of the BIM requirements, the Government, as client, is mandating data drops at key stages throughout a construction project. The open data format they have demanded is buildingSMART Construction Operation Building Information Exchange (COBie). This is a simplified, non-geometric sub-set of IFC. This is a relational database that, in its most simple form, can be a spreadsheet.
A COBie data file contains all of the required information about the building:
Spaces and zones
Specification and location of the objects
Facility management jobs for the objects
The contact details for the project team members and all manufacturers/suppliers.
The UK Government had the option to choose a proprietary file format to document their building stock over the coming years, but by specifying an open data format they have:
Protected the integrity of their data for years to come. Technology changes at incredible pace – who would have predicted the dramatic failure of such dominant market leaders Kodak or MySpace or Alta Vista?
Ensured competition amongst software and information providers from a fair open playing field. The various FM and costing software packages will become stronger and stronger. The information feeding into the BIM processes will come from many sources. This will all help to catapult the UK construction industry into a position as a world leader.
Exciting times.