The term 'procurement method' is used to describe the often complex network of relationships which are formed between clients, consultants and construction companies, to enable a building project to be realised. It is important to distinguish the contractual relationships from managerial links, and in complex modern procurement systems this is sometimes far from easy.
In some instances the procurement method will have already been decided before an architect is appointed, either as the result of company or authority laid down policy, or because circumstances or constraints leave very limited options, or because the choice has already been made by the client advised by a lead consultant who is not the Architect.
In this extract from Which Contract? 4th edition by Sarah Lupton, Stanley Cox and Hugh Clamp, we look at both traditional and modern procurement methods.
Which method to choose?
Which procurement method is likely to prove the most appropriate in a given situation will depend upon the nature and scope of the work proposed, how the risks are to be apportioned, how and where responsibility for design is to be placed, how the work is to be coordinated, and on what price basis the contract is to be awarded.
An important point to remember is that the choice of form (or forms) of contract cannot usually be settled until the procurement method and the type of contract have been established.
Procurement using traditional methods
In the traditional approach, the client accepts that consultants are appointed for design, cost control, and contract administration, and that the contractor is responsible for carrying out the Works. The responsibility of the latter extends to all workmanship and materials, including work by sub-contractors and suppliers.
In some cases the client will select some of the sub-contractors to be engaged by the contractor (variously referred to as named, nominated, or pre-selected). In such cases the contractor may take full responsibility for their performance, or the contractor's responsibility may be limited in some way, in which case a collateral warranty between client and sub-contractor will be essential. The contractor is usually chosen after competitive tendering on documents giving complete information. However, the contractor can be appointed earlier, either through negotiation or on the basis of partial or notional information.
The traditional method, but using two stage tendering or negotiated tendering, is sometimes referred to as the 'Accelerated Traditional Method'. By this variant, design and construction can run in parallel to a limited extent. Whilst this allows an early start on site, it also entails less certainty about cost.
Procurement using design and build methods
The client may need to appoint consultants to advise on his design requirements and costs, if he does not have this expertise available in-house. The contractor is responsible to a greater or lesser extent for design, as well as for carrying out the work and may appoint its own consultants. The arrangement may be for total design and construction, or for design development and production information based on a scheme design supplied by the client's consultants.
The contractor may be appointed either by competitive tender or as the result of a negotiated agreement. Where a design and build agreement is negotiated with just one contractor, it is sometimes referred to as 'Single Direct Design and Build'. Where an approach is made to a number of contractors, even if this is a two stage operation with only the most promising proceeding to the second stage, the agreement is sometimes referred to as 'Competitive Design and Build'. It tends to take slightly longer, but it usually results in a more developed design and greater certainty of cost and timing.
Frequently, in design-build procurement the client wishes to require the contractor to appoint some or all of its consultants at the time the design and build contract is entered into. This process is usually referred to as novation or consultant switch. It requires a complex tripartite agreement to be entered into between client, consultant and contractor. In addition to the client-architect and contractor-architect terms of appointment published by the RIBA, the CIC publishes suitable forms for novation and collateral warranties.
Procurement using management methods
There are several variants of management procurement practised in this country, but management contracts and construction management are the two most common. With management contracts the client usually starts by appointing consultants to prepare project drawings and a project specification. The management contractor is selected by a process of tender and interviews, and paid on the basis of the scheduled services, prime costs and management fee.
Its role is literally to manage the execution of the work, and he is not usually directly involved in carrying out any of the construction work, which will be done in 'packages' undertaken by works contractors usually appointed by the management contractor. In some procurement arrangements, the management contractor might also accept a design liability. In 'management contracting', works contractors are directly and contractually responsible to the management contractor. Its coordinated approach and potential for flexibility results in greater operational speed and efficiency.
Where the management contractor's obligation is total – where, that is, it accepts responsibility for both design and construction – the arrangement is sometimes referred to as 'Design, Manage, Construct'. It is usually featured as a contractor-led procurement method, but there is no real reason why it cannot equally well be architect-led. Indeed, where small works are sometimes carried out under direct trades contracts and coordinated by the Architect in the absence of a main contractor, this comes close to being such a procurement method. It does, however, demand a degree of highly specialized expertise and experience in setting up and managing operations which most architects are unlikely to possess.
With 'construction management' agreements, which will often be client drafted, there is usually a lead designer responsible for overall design, a construction manager responsible for the management and coordination of work, with the client responsible for directing the project and entering into all trades contracts. As the trades contractors are directly and contractually responsible to the client, the construction manager is in some ways less accountable for time and costs, whilst the client takes on the greater risk.
About this book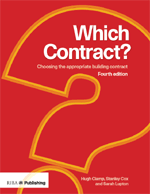 Extract from Which Contract? 4th Edition

by Hugh Clamp, Stanley Cox, Sarah Lupton , RIBA Publishing, August 2007
The indispensable Which Contract? Fourth Edition is the most up-to-date and reliable comparative analysis of the burgeoning number of standard forms of building contract currently available in the UK. Ever since its first publication in 1989, architects and other construction professionals have been turning to Which Contract? for guidance on what procurement strategies to adopt and how to identify the most appropriate contract for a given set of circumstances. It has now been updated to take account of the latest editions of all the recognised standard forms while its introductory chapters have been substantially revised to reflect changes in the contemporary contract procurement landscape.
Which Contract? Fourth Edition is an invaluable desktop companion to be turned to at the start of every new project and is recommended to any professional whose clients expect him or her to
know the contemporary procurement landscape inside out. Similarly, its straightforward plain English approach makes it ideal for architecture and other construction students preparing for their professional examinations.
To order a copy of this book, please visit RIBA Bookshops

.
To keep up-to-date with future articles in this topic area - why not sign up to the NBS eWeekly newsletter? Get the latest content from theNBS.com carefully crafted into a handy weekly email.