The National BIM Report 2016 is the most comprehensive analysis of the state of BIM within the UK construction sector.
The 2016 report is the sixth such study and with consistent set of core questions we are able to present a unique year-on-year comparison drawing on the insight of over 1000 construction industry professionals.
The full, free, report is now available for download and includes comprehensive analysis of this years' findings alongside unrivalled expert analysis of some of the key trends.
Download the National BIM Report 2016 (.pdf, 12.1Mb)

Read articles from the National BIM Report 2016
What's in the report?
An introduction to the report from NBS/ RIBA Enterprises CEO Richard Waterhouse
A summary of this year's findings from the NBS National BIM Survey
Feature content exploring; the wider landscape of infrastructure and convergence with geospatial, working towards a unified approach to BIM in Europe, the April 4 mandate from the UK BIM Task Group, Mott MacDonald's journey towards BIM implementation, the Periodic Table of BIM, building on BIM - diversity and change and BIM and the manufacturer.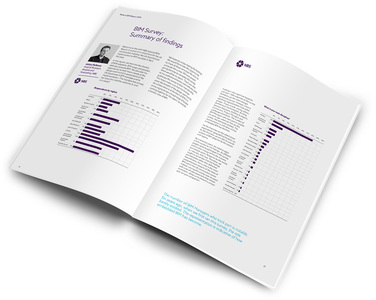 Who is it for?
UK construction professionals including architects, engineers, surveyors and contractors
Manufacturers – already embarking on BIM or just starting to consider it
Policy makers.
The findings at a glance
BIM adoption
A majority are now aware of and using BIM on at least some of their projects (54%), 42% said they were just aware of BIM, and 4% were neither aware nor using.
Regardless of where they are now, in a years' time 86% expect to be using BIM on at least some of their projects - and that number increases to 97% in five years' time making BIM universal and routine assuming good intentions are realised.
Indicative data on BIM adoption by region suggests prevalence in London, the North East, Northern Ireland and Wales. The area with the lowest rate of BIM adoption appears to be the East of England.
Skills and abilities
Almost half of respondents describe themselves as being 'very' or 'quite' confident of their BIM knowledge and skills, leaving a majority who are not. 23% describe themselves as being 'in between', while 28% descibe themselves as 'not very' or 'not at all' confident in BIM.
Immediate colleagues are the most likely source of BIM information, external professionals were cited by 57% of respondents.NBS were cited by 65% of people, while organisations including the UK BIM Task Group, RIBA and others were also suggested.
Use of standards
65% of respondents believe that BIM is not yet sufficiently standardised. 22% neither agree or disagree and 13% disagreed with the statement.
Standards cited by respondents as being used include the RIBA Plan of Work 2013 (40%), PAS 1192-2:2013 (29%), PAS 1102-3:2014 (23%), BS 1192:2007 (25%).
Creating designs
80% of respondents produce 2D models, and 70% 3D. 74% said that they have adopted collaborative techniques and this collaboration extends to sharing models (56% said they had shared such models with design team members outside their organisation, 45% have shared across different disciplines.
A minority (37%) use models from the start of a project to the very end, suggesting that for most BIM is restricted to the design stages. 30% produce a model that is software dependent and just 16% pass on a model to those responsible for the management of a building.
When producing drawings, Revit is the most popular tool, followed by ArchiCAd, then Vectorworks. As such a range of tools was cited the need for a standardised non-proprietary format seems clear.
Types of projects
People are generally more likely to use BIM in public sector projects but there is evidence of significant BIM adoption in private housing, private offices and private leisure. The government BIM mandate does seem to be influencing work in the private sector, not just the public.
Even among those using BIM, it is not used in every project but is used widely.
Attitudes towards BIM
People continue to be largely positive with three quarters seeing it as the future of project information. That said, free text comments from respondents suggest a small number of people who are resistant to BIM and do not see the benefits.
There is some ambivalence about how trustworthy information on BIM is - less than a third trusting what they hear with a significant minority (though it is a minority) feeling BIM is just for larger organisations.
76% of people disagree that BIM is a synonym for 3D CAD drawings, 62% disagree that 'it's all about the software'.
People have a clear appetite for BIM objects - 71% want manufacturers to provide them.
90% of users and non-users agreed that BIM implementation requires changes in workflow practices and procedure. The benefits, however, are clear - a majority citing improved co-ordination of documents and project visualisation.
Those who have adopted BIM are more likely to be positive towards it that those who have yet to - with 69% of adoptees saying that clients will 'increasingly insist' on it, and a majority feeling it brings cost efficiencies and improves client outcomes.64% believe adopting BIM has given them a competitive advantage.
BIM and government policy
77% of respondents said they were aware of levels of BIM maturity. When it came to acknowledging the highest level reached on a project, 4% stated Level 3, 65% Level 2, 30% Level 1 and 1% Level 0.
Use of Industry Foundation Classes (IFC) has risen to 63% of respondents (it was just 50% back in 2014). COBie (which helps deliver efficiencies throughout the life of the building was used by just 27%, though, of those that had, two thirds found it useful.
Three quarters believe the government will make people use BIM for public sector work, two thirds of people believing the government will require 3D BIM on projects by 2016.
48% believe the government to be on the right track with BIM. That said, 41% are unclear on what they need to do to comply and just 10% peceive the construction industry as being ready to deliver on the government's requirement.
The BIM advantages
63% believe BIM will help bring about a 33% reduction in the initial cost of construction and whole life cost of built assets.
57% believe BIM will help bring about a 50% reduction in the time from inception to completion for new-build and refurbished assets
39% believe BIM will help bring about a 50% reduction in greenhouse gas emissions in the built environment.
Less than a third believe that BIM will help create a reduction in the trade gap between total exports and total imports for construction products.
Download the National BIM Report 2016 (.pdf, 12.1Mb)
Related reading
National BIM Report 2016 articles
National BIM Report - access previous years' reports and related articles.
Related NBS Services
The NBS BIM workflow is powered by a suite of tools that enable you to produce co-ordinated digital design information. Find out more about NBS services for BIM projects.