Alistair Kell, Director of Information and Technology, BDP, looks at ways of managing the level of detail produced by a multi-disciplinary design team within a BIM project.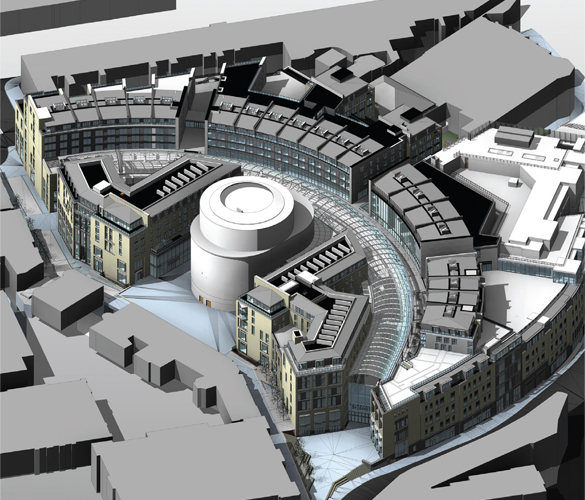 Project – Edinburgh St. James,
Client – TIAA Henderson Real Estate, BDP Building Information Model
BDP

was established as an interdisciplinary design practice in 1961 with the principles of collaborative team working at its heart. BDP's founder, Sir George Grenfell-Baines, firmly believed in a holistic approach to project design and delivery, developing a series of procedures to support this philosophy. Grenfell-Baines also chaired the committee that developed the original RIBA Plan of Work in 1963; this document was heavily influenced by BDP's interdisciplinary approach. In understanding the current drive towards BIM adoption, in particular the developing standards within the UK, the overarching principles required to effectively manage the project design and delivery process have actually changed little. They are, however, now governed by technology and process to such a degree that without comprehensive management, the overall benefits BIM can enable will not be achieved.
Our approach recognizes that the challenges of managing design development across disciplines do not vary dramatically between manual drafting, 2D CAD and BIM; the communication requirements of information remain constant. The application of standards supported by technology will, however, deliver more determined, efficient information with less inherent risk within it, providing improved building outcomes for our clients.
Following the Government's Level 2 BIM mandate, we recognize the primary change to established working practices as being the need for the project team overall to provide consistent digital information at an equivalent level across design stages; without this, the innovation that BIM can bring will simply not be realized. At BDP we therefore address standardization across design disciplines and project workstages, ultimately leading to the normalising of outputs for all project participants. We have recognized that, with project teams progressing in a collaborative environment, there is a far greater opportunity for BIM adoption on the project to succeed.
We manage the level of detail, or more importantly the progression of design development, through the RIBA Plan of Work 2013 (PoW)

. The PoW provides the structure and organisation for our project design and delivery methodologies. Through the standards developed following the UK Government BIM Mandate, applied across the PoW, greater uniformity across disciplines is being achieved.
Importantly, we see the PoW as a project-orientated rather than discipline-focussed document, and whilst this is not a project programme in itself, the workstages and necessary outputs define the intended level of detail to be delivered by each design discipline across workstages.
While the principles of design development have not fundamentally changed to harness many of the benefits of BIM, there is far greater need for common, aligned geometric and information outputs. Without this coordination, quantification, energy analysis and many of the other BIM uses simply cannot be achieved. We utilize the BIM Execution Plan to ensure that all team members work to a uniform set of standards. This is developed on a project-specific basis, addressing appropriate Employer's Information Requirements.
The BIM Execution Plan (BEP) is developed for each project at inception. Our standard BEP template aligns to PAS 1192:2 and its creation, application and regular review is both linked to the Technology Strategy outlined in the PoW and monitored through our internal QA Audit process. We develop the BEP in conjunction with all project participants, and once confirmed it is available to all internal team members and is shared with external project participants.
By utilising the RIBA PoW across all professions, we are better able to manage project deliverables, developing individual discipline models coordinated and guided by the BEP. Similarly we advocate the use of appointment documentation and supporting forms produced by the Construction Industry Council, BS 1192:2007 and the PAS 1192 suite of standards applied to the BDP Design Process to rigorously control project workflows.
Through the application of PAS 1192:2 and BS 1192:2007, we establish the mechanisms for successful technical project delivery. However, the preparation of an interdisciplinary Design Responsibility Matrix (DRM) is a key tool to guide project development.
The DRM is the controlling document for workstage outputs, outlining the ownership of each building element and the level of detail that will be delivered at each workstage. We prefer to define these requirements early on in the design process when they can become contractual deliverables, prior to formal appointment documents being signed. Projects then progress with all parties having greater definition over what is to be delivered, when it is required and what the information can be used for.
With there being no published UK-specific standards that support the preparation of DRM to be prepared as part of a complete suite of aligned, UK-centric documents, we attempt to address this by aligning the RIBA work stages to the BSRIA BG6 Guide, American Institute of Architects E202 BIM Protocol Exhibit and the more recent Level of Development Specification 2013 prepared by the US BIMForum.
With the necessary protocols in place, we are then able to progress projects with the confidence that design development, project collaboration and workstage outputs can all be uniformly delivered.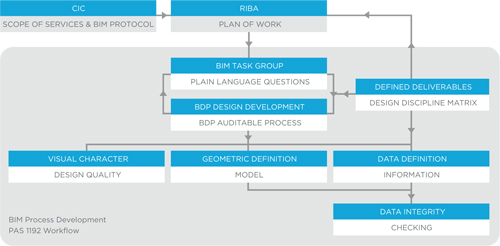 Interrelationship of Information
The development of the BEP and associated documents and their application is managed on a project by project basis through our Project Technology Manager Group. These individuals are a dedicated resource, available within each office, with specialist skills and knowledge of BIM software, processes and standards. Working with project teams supports both BIM Coordinators and Design Team Leaders to produce deliverable documents. Once prepared, the Project Technology Managers then support the application of these documents, addressing training where necessary and increasingly providing QA/ audit/ data integrity checks as information is concluded. Their specialist knowledge assists with the upskilling of our technical teams, driving efficiency and allowing a greater focus on design creativity.
Moving forward, it is clear that the NBS BIM Toolkit will provide a further level of understanding and ultimately commonality across the industry. With a set of aligned Level of Detail (LoD) and Level of Information (LoI) standards, revised classification system and the means of confirming compliance against a set of project-defined deliverables, the industry will be able to provide more coordinated, data-rich information, ultimately driving efficiencies in the design, construction and operation of buildings. Our hope is that by providing an industry baseline for information delivery, the conversation will move from the production of digital information back to the quality of the built form and end user experience.
To ensure we are informing this debate, BDP has been supporting NBS on the BIM toolkit project over the last 12 months, specifically developing the graphical definition (LoD) for some 400 objects across the RIBA workstages. These definitions cover architecture, landscape, MEP and structure, tackling typical building elements and providing guidance on graphical and geometric requirements. Each element is assessed across RIBA workstages and the suitable geometric definition prepared for the necessary workstage activities; coordination, analysis, procurement, etc. allow for a meaningful approach to model development and design coordination across disciplines.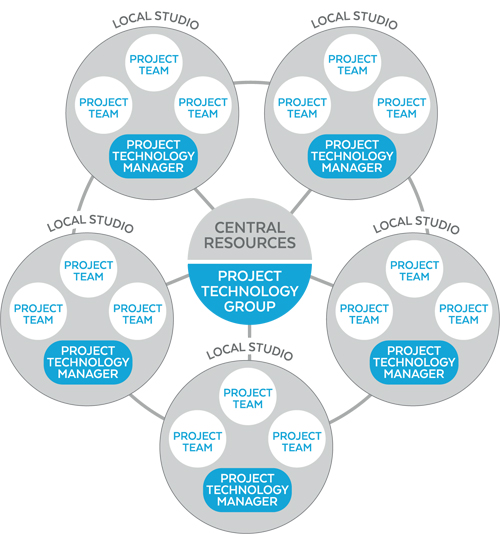 Support structures
By simply outlining what information is to be provided, who is to provide this and what it can be used for at various points throughout the design and construction phases of a project, greater efficiency can be brought to the project. In progressing this work, we have established an approach that acknowledges the development of information through each workstage and how this relates to the client brief. Our view is that the information available at the beginning of each workstage effectively defines the brief for that stage; the design activities are then progressed and the development of the briefing material is then encompassed in the workstage outputs, be they data drops, planning submission or end of stage reports, etc. The volume and detail of the information will vary appropriate to the workstage; however, this principle can be applied across all workstages and other key activities such as planning or procurement. Following this principle forward by confirming LoD and LoI requirements for each discipline against building elements, the workstage brief provides the checking mechanism to confirm compliance of the end of stage outputs against the confirmed brief provided at the stage commencement. Equally, once confirmed these outputs then provide a more comprehensive brief for the following workstage.
Ultimately, with the NBS BIM Toolkit now available, as it becomes established we expect to see both improvements to information development and efficiencies in overall project lifecycle. Clearly there are many challenges ahead, but significant progress has already been made and the target has now become clearer as the final components of the Level 2 specification have been finalized.
This article originally appeared in the NBS National BIM Report 2015. Download your free copy of the full report containing expert insight and analysis.
Download the NBS National BIM Report 2015 (.pdf, 8.1Mb)

Related NBS Services
Develop specification information through the construction timeline with NBS Create. Our software allows you to create outline specifications, considering performance throughout, and then develop this through to a full specification.
Buy NBS Create
The NBS BIM Toolkit

allows collaborative project teams to define how much information is required and when it should be provided through the project timeline.
Create your first NBS BIM Toolkit project