BIM or Building Information Modelling is a process for creating and managing information on a construction project across the project lifecycle. One of the key outputs of this process is the Building Information Model, the digital description of every aspect of the built asset. This model draws on information assembled collaboratively and updated at key stages of a project. Creating a digital Building Information Model enables those who interact with the building to optimize their actions, resulting in a greater whole life value for the asset.
Through BIM, the UK construction industry is undergoing its very own digital revolution. BIM is a way of working. BIM is information modelling and information management in a team environment, all team members should be working to the same standards as one another. BIM creates value from the combined efforts of people, process and technology.
Find out more about the NBS BIM Toolkit that NBS has developed for the UK Government.
Read the 2017 NBS National BIM Report.
What is BIM? A video guide
Find out what BIM is as a variety of speakers give their explanation of BIM in our video:
How can BIM help you?
BIM brings together all of the information about every component of a building, in one place. BIM makes it possible for anyone to access that information for any purpose, e.g. to integrate different aspects of the design more effectively. In this way, the risk of mistakes or discrepancies is reduced, and abortive costs minimized.
BIM data can be used to illustrate the entire building life-cycle, from cradle to cradle, from inception and design to demolition and materials reuse. Spaces, systems, products and sequences can be shown in relative scale to each other and, in turn, relative to the entire project. And by signalling conflict detection BIM prevents errors creeping in at the various stages of development/ construction.
Watch a video of BIM in action
Discover the benefits to incorporating information rich Building Information Modelling through the case study project, 'NBS Lakeside Restaurant':
What is a BIM object?
A BIM object is a combination of many things: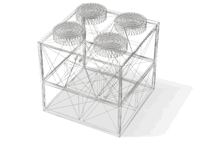 Information content that defines a product
Product properties, such as thermal performance
Geometry representing the product's physical characteristics
Visualisation data giving the object a recognisable appearance
Functional data, such as detection zones, that enables the object to be positioned and behave in the same manner as the product itself.
See also: What are BIM objects?
Find high-quality free BIM objects on the NBS National BIM Library.
What is the future of BIM?
The future of the construction industry is digital, and BIM is the future of design and long term facility management; it is government led and driven by technology and clear processes; and it is implementing change across all industries. As hardware, software and cloud applications herald greater capability to handle increasing amounts of raw data and information, use of BIM will become even more pronounced than it is in current projects.
The UK Government's Construction 2025: Industrial Strategy for Construction is targeting lower costs, faster delivery, lower emissions and improvements in exports to position the UK at the forefront of international construction. The UK Government's Construction Strategy 2011 is a framework for a range of work streams, all of which contribute to the 2025 strategy. This framework forms the basis of the government's BIM hypothesis:
Government as a client can derive significant improvements in cost, value and carbon performance through the use of open shareable asset information.
See also: When will BIM become business as usual?
Essential BIM resources
There are numerous sources of information for getting started with BIM. In addition to the many organisations offering seminars and training, the following can also assist:
See also: The BIM directory - essential resources for BIM
What to read next...