In his role as buildingSMART UK director, NBS Head of Specification Ian Chapman recently attended a meeting to discuss the buildingSMART Data Dictionary, and here's a brief introduction to what the dictionary is all about.
What is the buildingSMART Data Dictionary?
The buildingSMART Data Dictionary (bSDD) is one of the three buildingSMART BIM standards:
Industry Foundation Classes (IFC) – the format for the exchange of information
Information Delivery Manual (IDM) – the processes for exchanging information
Data Dictionary – the meaning of information that is exchanged.
In a nutshell IFC = format, IDM = process, and DD = meaning.
It's important to recognise that bSDD is not:
A classification system
A home for project information
An alternative to IFC.
Without the bSDD, information that is exchanged between BIM tools does not necessarily have an understood meaning. The bSDD framework provides a language independent information model that can be used for the development of dictionaries to store construction information or indeed any other object orientated information.
An example of what bSDD could do... translating a UK specification into Norwegian: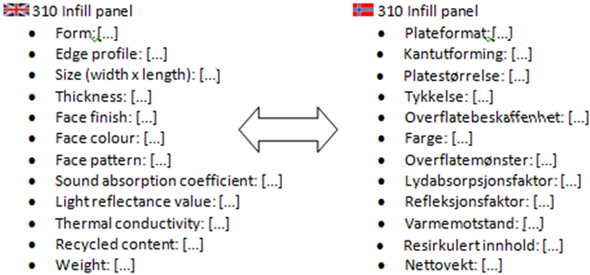 The bSDD could also rearrange content organised by Uniclass into another classification.
Unlike a traditional dictionary that provides a definition for a word, bSDD connects words together based upon their (construction) meaning and it is these connections that give the bSDD its ability to translate. The method by which bSDD does this is by separating the words (in any language) from their meaning by identifying the concepts that the words represent. For example, the word 'beam' can have many meanings (concepts) such as in a beam of light or a structural beam. Having identified the concept, the data dictionary connects words to concepts and in doing so enables information in one language to be translated to another with the meaning remaining intact.
There's a lot more to the bSDD than these basics and it has the potential to be a very powerful framework, so watch this space.