Collaboration the key at Build Earth Live
One challenging yet potentially iconic site. One whole lot of potential. But could you, and team-mates from around the globe, really collaborate to produce an imaginative and award winning design in just 48 hours?
Back in 2012 and 2013, Build Earth Live events in Qatar, London and Sydney aimed to find out exactly that with some pretty impressive results. Later this year a challenging plot in New York gets the same treatment and last week Newcastle upon Tyne also played host to the Build Earth Live challenge.
The Newcastle event took place on 16/17 March and asked teams to tackle an unloved space along the city's famous Quayside and develop the space to act as a Digital Innovation and Showcase Centre providing for a range of enterprising, academic and retail uses. Being sympathetic to nearby residents and high-quality architecture, not to mention the iconic River Tyne, while providing a solution that worked on so many different levels was clearly no easy task.
Teams were free to exploit any interoperable technology to deliver their vision and were judged on their:
Use of BIM for design, drama and excitement
Use of multi-disciplinary BIM and interoperability, and
Use of BIM for technical assessment.
The judging panel included:
David Philp, Head of BIM Implementation at the Cabinet Office
Mark Bew, Chairman of the Government BIM Working Group
Mohamad Kassem, Senior Lecturer in Engineering Project Management at Teesside University
Nash Dawood, Professor of Construction Management and IT at Teesside University
Narhan Doughty, COO, Asite, and
Russ Hynes, Principal BIM Consultant at Rapid5D.
The NE1forBIM team, made up of SMEs, academia and research establishments included representatives from NBS. The team were able to demonstrate how project information can be developed in the soon-to-be-launched NBS BIM Toolkit specifically looking at a manufacturers' product. This product was then developed as a BIM object and linked to NBS Create through NBS Plus. For their efforts, the team landed the 'Best multi-disciplinary BIM and use of interoperability award'.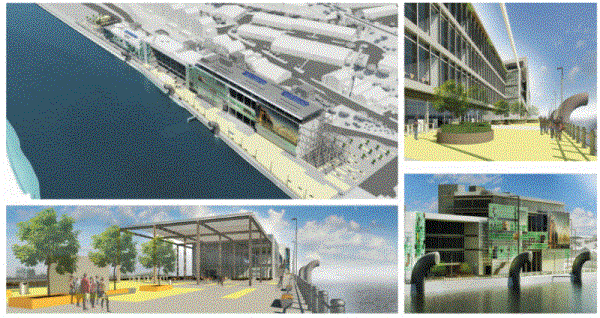 A digital mock-up of what the building would look like
You can find out more about all the winners and the competition itself at www.buildearthlive.com/newcastle

Details of the New York event can be found at www.buildearthlive.com/newyork