The NBS BIM toolkit designed to help users complete projects to Level 2 BIM moved into its public beta phase on Wednesday 8 April at BIM Show Live in Manchester. This allows the industry to begin trialling the toolkit and giving valuable feedback for the final stages of development, before it is officially launched in the summer.
Comprising a new unified classification system and digital plan of work, the NBS BIM Toolkit public beta is free to use and is now available for construction professionals to use on Level 2 BIM projects. Users will benefit from step-by-step support, enabling them to define, manage and verify responsibility for information development and delivery at each stage of the asset lifecycle.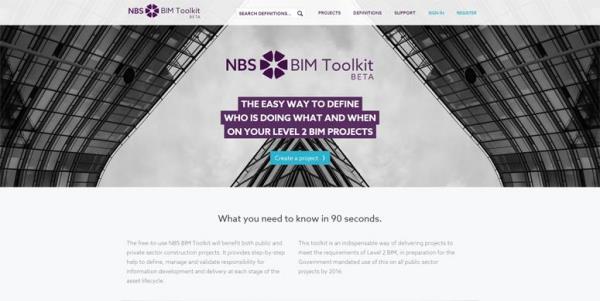 A special conference session covering the NBS BIM Toolkit and digital plan of work and a range of live demonstrations were held at BIM Show Live. Here, Dr Stephen Hamil, Director of Design and Innovation at NBS and project lead for the BIM Toolkit, was joined by Steve Lockley, Professor of Building Modelling at the BIM Academy and David Philp, AECOM's Director of Building Information Modelling (BIM) and Head of BIM for the UK Government's BIM Task Group.
In addition to a wealth of technical content, users of the NBS BIM Toolkit can access a a series of articles providing specialist advice on a range of relevant subjects, such as the concept behind Level 2 BIM, the levels of detail for construction objects, and how to develop employer's information requirements.
Free to use, the NBS BIM Toolkit will empower all parts of the construction industry:
Clients and managers of assets will be able to comprehensively define information requirements to ensure their needs are met and better project outcomes are guaranteed.
Design and construction teams will be able to assemble a team with clearly assigned roles and responsibilities to work collaboratively on their Level 2 BIM projects.
Manufacturers will be able to provide digital information quickly and easily to specifiers on thousands of construction projects.
The toolkit has been developed by NBS in conjunction with colleagues from BIM Academy, RICS, Microsoft, BDP, Mott MacDonald, Newcastle University and Laing O'Rourke, with additional support from APM, BIFM, CIBSE, CIOB, ICE, IStructE and RIBA. In September 2014, the team was awarded £1m in funding from Innovate UK (formerly the Technology Strategy Board) to take forward development of a digital toolkit, in preparation for the Government's 2016 BIM mandate for all central government projects.
The project, which is being supported by the BIM Task Group and Department for Business, Innovation and Skills, is seen as a vital part of the global race to develop an open standard and supporting tools for BIM adoption.