It is estimated that there are over 45 million people subject to modern slavery in the world today. It is hoped that new guidance, which can be downloaded for free from www.stronger2gether.org, will help construction businesses shape their response to a problem the UK Prime Minister Theresa May has described as "the greatest human rights issue of our time".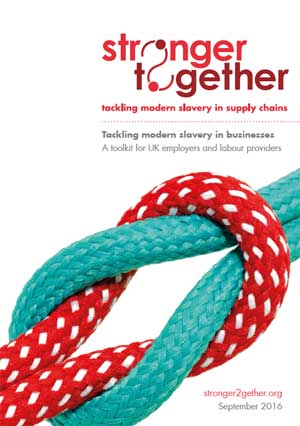 The toolkit is part of a an in-depth specialist industry programme supporting construction companies in tackling modern slavery. The programme will provide the construction sector and its clients with practical resources and training based on the UN Guiding Principles on Business and Human Rights framework and help businesses comply with UK Modern Slavery Act requirements.
While no reputable business would choose to be associated with human rights abuse and exploitation, the fragmented supply chain that serves the construction industry means that instances can often remain hidden. Opaque procurement processes and high demand for migrant labour also leaves the sector vulnerable to modern slavery.
The programme is one of the tangible outputs following the publication of a CIOB report, Building a fairer system: tackling modern slavery in construction supply chains, last summer. The study explored how workers are abused in ways such as forced or bonded labour, late payment, unsanitary living conditions, unfair deductions from wages, withheld passports, loss of freedom of movement, lack of representation, violence, intimidation and physical abuse.
The UK Modern Slavery Act, which came into force in 2015, requires UK organisations with a turnover of more than £36 million to publicly report on how they are dealing with human rights issues in their supply chains.
The fragmented supply chain that serves the construction industry means that instances [of modern slavery] can often remain hidden
Both organisations are now inviting construction companies and clients to become Stronger Together construction sector project sponsors to pioneer this multi-stakeholder initiative into the sector. Project sponsors will:
Form the Stronger Together construction sector steering group to contribute to programme strategy and provide input to develop new materials and resources
Recommend to key staff, primary contractors and the wider supply chain to send delegates to the 'Tackling Modern Slavery in Construction' training workshop
Provide free online access on www.stronger2gether.org to a wide range of Stronger Together resources including toolkits, videos and other CPD for use by their business and supply chain
Display their logo on the Stronger Together website and printed materials and may refer to themselves as Stronger Together project sponsors; and
Reference their role in Stronger Together in modern slavery statements and corporate social responsibility reports – particularly that they are making available guidance to their supply chains to deter, detect and deal appropriately with forced labour and labour trafficking.
Contact info@stronger2gether.org to find out more.